Love and Mercy Itself
"I am love and mercy itself. There is no misery that could be a match for my mercy." – Jesus to St. Faustina
There's no sport as intense and simultaneously adorable as third grade basketball. With my son, Peter, on the team this season, we had front row seats to the sweetness of his young team. They were fierce, yet clumsy so that a single bump from an opposing player could result in tears. Amid one instance of rapid-fire passes and mad grabs for the basketball, one boy emerged from the pack of players to run awkwardly to the ref, where his sneakers and scuffling came to an abrupt halt. The crowd watched as the boy inaudibly pleaded with the court authority, who gently chuckled and took a knee to tie the little boy's shoe. The boy couldn't do it on his own, so he took his tiny crisis to someone who could help.
And that's what mercy is: When the capable witness or sense the difficulties of the incapable and act in place of or in conjunction with those who can't do something for themselves.
In pondering mercy, society equates it with pity or even weakness; in reality, mercy is quite the opposite. Pity in itself is a feeling, not an action; giving and receiving mercy calls for ready strength of heart over weakness.
We practice mercy daily, probably as easily as the referee that day. My 6'5" husband often grabs what is out of my reach when I ask. When my children become frustrated over homework and need a break, I get them outside to play and breathe before resuming. Mercy is noticing another's difficulty and doing something about it, whether the giver needs to take over or just be present while the receiver works through a challenge.
A favorite Old Testament reading about mercy is the Lord's appearance to Moses through the burning bush. God said, "I have witnessed the affliction of my people, I have heard their cry, and know well what they are suffering, therefore I have come down to rescue them from the hands of the Egyptians" (Ex. 3:8). God told Moses that He saw, heard and knew the Hebrews' suffering well, and because they couldn't free themselves, the Lord sent a deliverer.
In the New Testament, the tax collector Zacchaeus' curiosity compelled him to climb a tree for a better look at Jesus, who was surrounded by a crowd. Christ's act of mercy here was simply walking up to Zacchaeus, not only affording him a closer look, but also a promise for conversation during the Lord's stay at Zacchaeus' own home.
This mercy, this kindness and generosity, from Jesus is for us. God is the same as He ever was. All-loving, all-knowing, all- merciful, He offers the same mercy to us as He did to Moses and Zacchaeus. When He appeared to St. Faustina in the 1930s, He said, "Let the sinner not be afraid to approach me … The soul that trusts in my mercy is most fortunate because I Myself take care of it." Whatever the challenge, tribulation, or minor deliberation for life-altering choices, Jesus Himself sees to our problems; not because we're helpless or clueless, but because He loves us and aches for us to know how much.
During the Easter season, join me in happily receiving God's mercy. Return to confession with your family, receive Holy Eucharist often and entrust your anxieties to Jesus with sure knowledge that He will attend to your heart and problems. God hears our afflictions and awaits our surrender to His capable hands.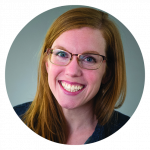 Katie Sciba is a national speaker and Catholic Press Award- winning columnist. Katie has been married for 14 years and is blessed with six children.
This article appeared in the June 2022 edition of The Catholic Telegraph Magazine. For your complimentary subscription, click here.