Lydia's House Blessing Prepares a Home for Women and Children in Crisis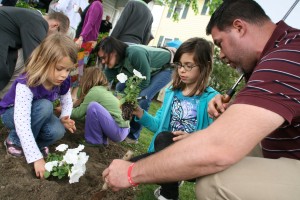 Press Release
Inspired by the hospitality of St. Lydia and the work of Dorothy Day, a new Catholic Worker home is being prepared for homeless women and their children. On May 5, an open house and ecumenical blessing was held at the property, 2024 Mills Ave in Norwood, acquired by the non-profit organization, Lydia's House.
The ecumenical house blessing, led by Father Dan Hartnett of Bellarmine Chapel, Rev. Joshua Stoxen of Vineyard Central Church, and Rev. Jane Gerdsen of the Episcopal Diocese of Southern Ohio, celebrated the purchase of the home and commenced its renovation activities.  Children in attendance planted flowers on the property, were commissioned to sprinkle holy water, and offered prayer intentions in various rooms of the house.  In a January prayer service launching the project, volunteers and donors assembled a quilt with purple flowers, in honor of St. Lydia, a seller of purple dye who was one of the first European converts and remembered for her hospitality to St. Paul. The quilt was hung in the home's entry at the May 5 blessing.
"This has happened and will only happen through the grace of God," said Mary Ellen Mitchell Eilerman, co-founder of Lydia's House and parishioner at Bellarmine Chapel. "We have paid cash for this property through the generosity of many people. Together, we will provide a communal home to women and children in crisis. Our lives will be changed and so will theirs because we listened to God's call."
After significant renovations, Lydia's House will invite homeless women and their children to stay in the residence for six to 18 months. While women gain job skills, secure long term housing and conserve their financial resources, they will be nurtured in a home where they are honored as guests. They will be supported by two live in volunteers and a large number of off-site volunteers.
Lydia's House is securing support to renovate the home this summer and fall, and estimates needing $60,000 additional dollars to complete the project. Donations can be sent to PO Box 128808, Cincinnati Oh 45212. They are also looking for work groups to help with the renovation. If your church or family would like to participate, please email [email protected].  Their hope is to offer this much needed housing to homeless women and children in early 2014. For more information about Lydia's House, please visit www.stlydiashouse.org or call 513-549-7752.