Madi Langdon Teens who Radiate Christ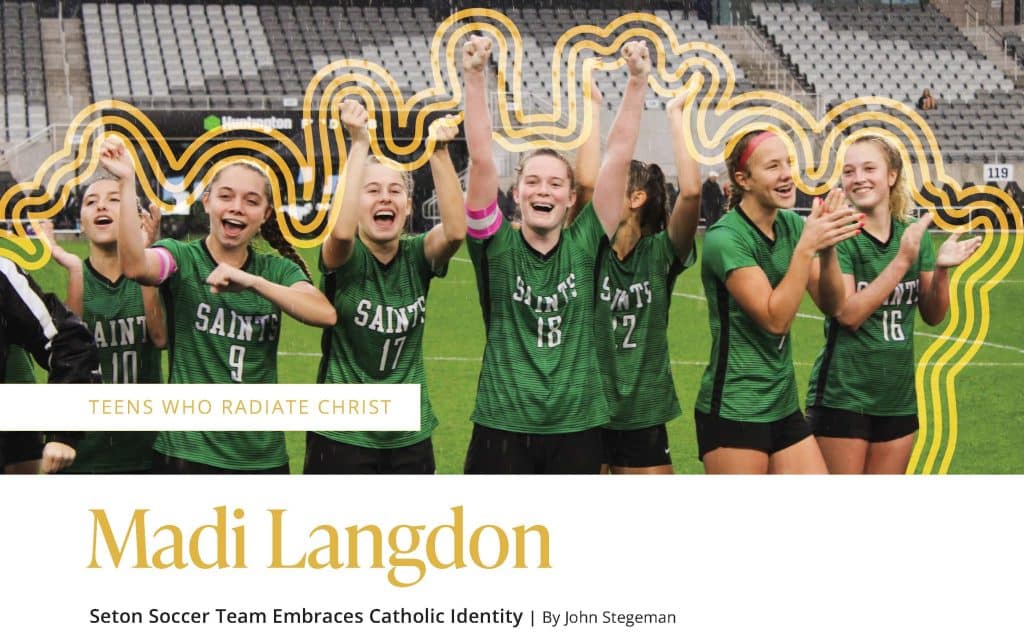 When Shannon Ott hit the back of the net in the second half of the OHSAA Girls Division I State Soccer Championship in November to give Seton High School a 1-0 victory against Strongsville, it capped off a feel-good season for the Saints. But soccer is only part of the story for a team that dove headfirst into its Catholic identity.
In Matthew's Gospel, Jesus teaches His disciples not to worry about worldly things: saying, "But seek first the kingdom of God and his righteousness, and all these things will be given you besides" (Mt. 6:33).
Madi Langdon, a four-year defender for the Saints, and her teammates took a similar approach to their season. They practiced and played hard, but they prayed hard too.
"Oftentimes people just go through the motions, but this team really applied themselves to [faith]," Langdon said. "Our mission statement was, 'Play for the glory of God by persevering together.' That's really what we did this year. [I knew this team was special] because this team really dove into it deep."
Lisa LaRosa, an assistant under Head Coach John Volker, handles much of the faith-building exercises. Some key elements came from her daughter, Erika Maurer, who worked in sports ministry for Seton, but LaRosa made the work her own. The 10-year assistant makes herself available for faith building as often or as little as a team's players desire. This year, the team asked at least weekly for activities, and often more than that.
"This team was truly special," LaRosa said. "Yes, they are filled with speed, technical ability, endurance; but the underlying thing is their mission statement. … These girls would look at each other, and they'd say, we got this. They didn't back down. They didn't get nervous. They knew what they needed to do to glorify God, and they didn't take their talents for granted."
The Saints went on to win 19 games en route to the title—and the Seton community's strong support was evident. The school sent six buses filled with fans to the state semifinal game and had a large crowd at the final game as well.
"It was very cool to see the whole community come together," Langdon said. "Just being able to lead the team through it all was very encouraging. And [it was] very cool to be a part … because I had lots of injuries throughout my [soccer] career, so I never knew if I was going to be able to keep playing."
"I credit a lot of my faith to Seton," Langdon added. "Everything we do is based on our faith. I've grown up in a Catholic household, so I always had my faith, but Seton soccer and Coach LaRosa, who I've become very close to, have helped me through my faith and made it a main priority in my life."
The soccer season is over, but LaRosa's sports ministry is not—the administration asked her to work with the Saints' basketball and lacrosse teams on similar faith-building programs. She has already seen the seeds of faith take root in the basketball team, and the lacrosse team asked for faith-building exercises twice a week.
"They want to learn more," she said. "I tell them, 'My hope is that you know God will love you no matter what, unconditionally, and that you will have more hope at the end of the season.' I feel like young people are really struggling right now with that. If they make a mistake, they feel like nobody loves them. I'm trying to teach them that, unconditionally, God will always be there for them, leading them and loving them."
This article appeared in the May 2023 edition of The Catholic Telegraph Magazine. For your complimentary subscription, click here.