Making Catholic Memories: St. Bernard Honey Lavender Cupcakes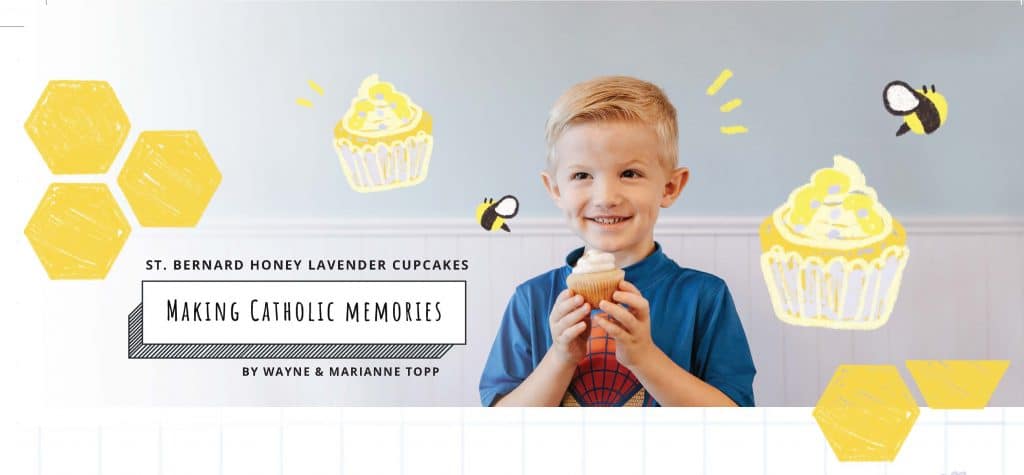 My grandfather was well known in his small town. He was a farmer, a veteran WWII officer and a bus driver. There wasn't a student in the Marion Local School District who didn't know Bernard "Ben" Droesch. He had a gruff exterior and was known for his choice of words (which remained as colorful as they were when his time in World War II ended). He had little patience for bad behavior, but he loved his family and the kids he took to and from school. In his own way, Grandpa Ben modeled a simple life of humility, hard work and holiness that his namesake, St. Bernard of Clairvaux, expected from his fellow friars and himself.
St. Bernard lived in 12th Century France where, from a young age, he displayed great levels of religious piety. As a young man he joined the Cicstercian Order and quickly became the abbot of the community of friars at Clairvaux. He was a brilliant man and has been called "the last of the Church Fathers." He was well known throughout the Christian world as a great preacher, earning the title of "Mellifluous (or honey-tongued) Doctor." Because he spoke so eloquently about faith and did so with uncompromising love, he converted countless people and attracted hundreds of men to the Cistercian order.
Despite his popularity and great demands on his time, St. Bernard always emphasized to his novices the need for holiness and humility. These should be lived out, he would say, both in the contemplative life of the abbey and in ministry in the world. The greatest example and perfection of these virtues, he told them, is the Blessed Virgin Mary, to whom he had a deep devotion. Because of his great writings and influence on the Church, St. Bernard was declared a Doctor of the Church.
It would seem these two men, St. Bernard and Grandpa Bernard, do not have much in common. One was well known for his eloquent preaching, the other for his colorful language. One was frequently sought after for his intellectual writing; the other was a simple farmer and bus driver who left high school early to enter World War II. However, both men desired a life of simplicity. Both were willing, at all times, to do what was needed – even when it was not what they wanted. Both men lived their lives by expecting greatness in others, and both were dependent on the will of God.
This is why we named our youngest son after his great-grandpa and one of the greatest saints of the Church. I pray that he, and all our children, will live a life marked by hard work, devotion, holiness and humility.
To honor the Mellifluous Doctor, we decided to bake Honey Lavender Cupcakes.
This article appeared in the August 2021 edition of The Catholic Telegraph Magazine. For your complimentary subscription, click here
.