Marking 50 years of faith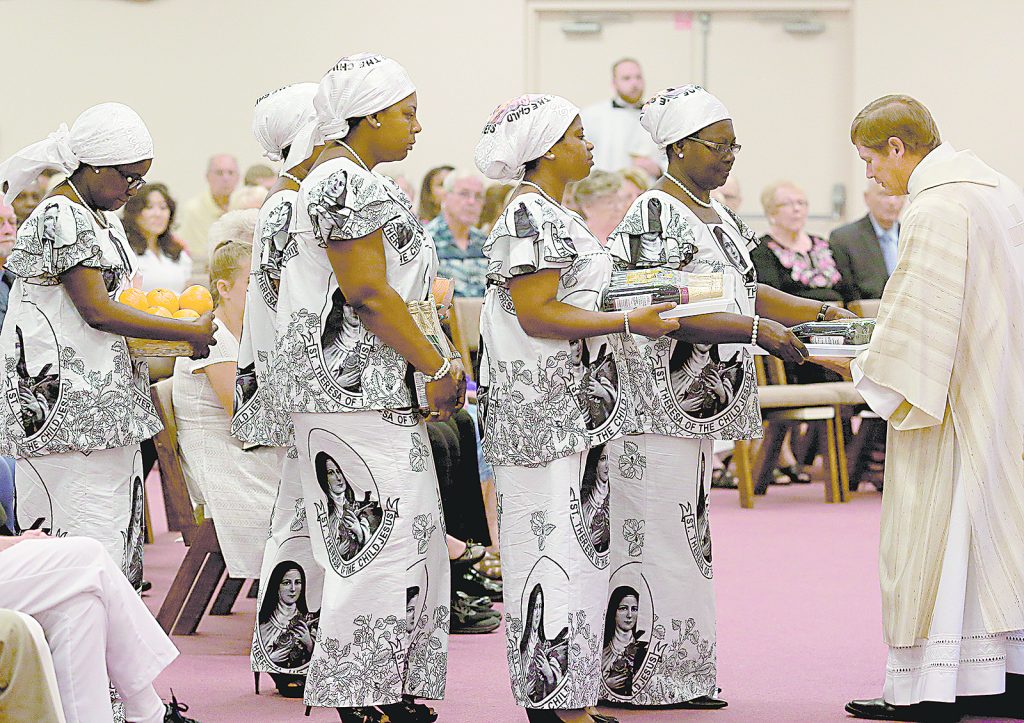 St. Matthias the Apostle parish celebrates growth, change
As a young wife and expectant mother Judie Mohr moved to Forest Park in 1967 with her husband, Charlie, where the couple became charter members of St. Matthias Parish. They are still active parishioners today, and, said Mohr, the past 50 years have been "a real journey."
That journey of faith was celebrated Aug. 6 with a Mass marking the parish's 50th anniversary. Archbishop Dennis M. Schnurr presided
"The celebration was lovely," said Mohr, who chaired the reception that followed Mass. "People came back that we haven't seen in a long time. It was a reminder that our faith has always been strong and is still growing."
St. Matthias Parish began in June 1967 with the purchase of 10 acres of land and Father Jesse Lonsway's appointment as founding pastor. Eight hundred people attended the first four Masses celebrated at Cameron Park. After numerous meetings and much planning, Sunday Masses started in the new St. Matthias Center on Palm Sunday 1969.
The parish grew rapidly. A three-year fund drive in the early 1980s allowed the parish to build a new church and chapel, and expand the parish center. Archbishop Daniel E. Pilarczyk dedicated the completed complex on March 14, 1985.
"We have a beautiful faith community here," said Dick Neyer, charter member and current Parish Council president. "We have a lot of volunteers and a spirit of working together that has kept the parish going."
"One thing that always impressed me about the parish was the diversity," said Deacon Ray George, who served at St. Matthias for 23 years, noting the presence of the parish's Ghanaian community. "The people there don't see color, and that pleases me more than anything else. I'm so proud of those people and that church."
"For me, the diversity of the parish has been very important," said Marcia Schulte, who joined St. Matthias in 1979. "It's helped to me grow in my faith and as a person. Our pastor always said we're small, but mighty. I think it means a lot to the parish to have the sense of history and know that it's taken a lot of work and faith to keep it strong."
Since 2013, St. Matthias has been part of a Pastoral Region with St. James of the Valley and Our Lady of the Rosary parishes. Father Chris Coleman was installed as pastor of the new Winton Wyoming Pastoral Region (WWPR) on July 1, 2014. The region is still reeling from his death in a car accident this July. "We miss Father Chris terribly," Mohr said. "He was a priest who loved being with his people."
Father Mike Pucke has been named pastoral administrator for the WWPR for a period of six months. Father Lambert Ulinzwenimana, a diocesan priest from the Gikongoro Diocese in Rwanda, currently serves as parochial vicar. He thanked the founding members in an anniversary reflection posted on the WWPR website, saying, "As we celebrate the parish anniversary, we also celebrate your faith that, day by day, you hand on to your family members and share with St. Matthias' entire community.
"Let our community thank God for all the priests and deacons who have served St. Matthias and other parishes in the past years," he added. "For those who have gone before us, we offer prayers, and to those who are still among us, we appreciate your ministry. Thank you all who helped in many ways at the preparation to the milestone celebration of St. Matthias. May the Almighty God richly bless you all and your families. Stay Golden."