Mass at Our Lady of Grace brings faith communities together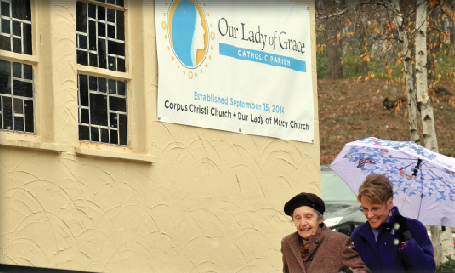 By Eileen Connelly, OSU
The Catholic Telegraph
A special Mass on Nov. 16 brought two Dayton faith communities together as they honored the past, celebrated their unity and are now looking with faith and hope toward the future as Our Lady of Grace Parish.
The liturgy was held at Our Lady of Mercy Church and attended by members of that parish, which merged with Corpus Christi effective Sept. 15, along with representatives from St. Agnes (closed in 2006) and Assumption (united with Our Lady of Mercy in 1999) and Queen of Martyrs, their regional partner.
Archbishop Dennis M. Schnurr decreed that both Corpus Christi and Our Lady of Mercy will serve as two coequal parochial churches, retaining their original names, as the Our Lady of Grace worships site for the proper celebration of all Catholic liturgical rites and reservation of the Blessed Sacrament. Missionary of the Precious Blood Father Joshua Otusafo will serve as parochial administrator of Our Lady of Grace.
A transition team was assembled to facilitate the merger, which had long been under discussion, said Judy Martinson, parish council president. "We have had joint ministries and collaborated for a long time," she explained. "We felt this coming together, while maintaining two worship sites, would make us a stronger parish, a stronger presence in the urban area of Dayton."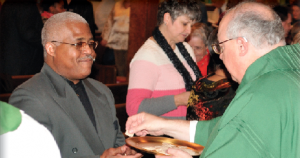 "We will continue to be true witnesses to the Gospel through worship, evangelization, service and outreach for many years to come. Through the power of the Holy Spirit, these characteristics will manifest into a more faithful and powerful parish – Our Lady of Grace," reads a letter from the transition team.
The name Our Lady of Grace was chosen via a survey and voting process conducted among parishioners, Martinson said. "Most parishioners liked the name because of the whole concept of what grace is, that all of us our given gifts and talents from God to use to inspire others.
The Nov. 16 Mass was celebrated by Auxiliary Bishop Joseph R. Binzer, with Fathers Otusafo, James Schutte and Del Staigers as concelebrants. Members of the various faith communities participated as lectors, gift bearers, Eucharastic ministers and by providing music for the liturgy. Martinson composed a song for the occasion, "Our Lady of Grace, We Love You," that was used during the offertory. A parish meal and celebration at the Corpus Christi Recreation Center followed the Mass.
"Truly God us has bless us on our journey toward being better disciples," said Martinson. "The celebration has taken place, but now our real work begins. Through working side by side, we'll be able to be what God wants us to be for each other and for the local community."
This article originally appeared in the January 2015 print edition of The Catholic Telegraph.