January edition highlights Year of Mercy opening, top 10 stories and more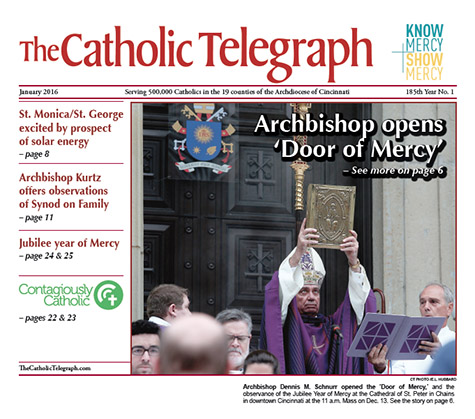 The Catholic Telegraph's first edition of 2016 features Archbishop Dennis M. Schnurr holding aloft the Gospel before opening the Holy Door of Mercy at the Cathedral of St. Peter in Chains. The issue should begin arriving in mailboxes Dec. 30.
The cover story (page 6) will tell readers that more than 400 turned out for the momentous event to begin the Extraordinary Jubilee Year of Mercy here in the archdiocese. The story quotes from Archbishop Schnurr's homily Dec. 13 urging the faithful to accept the challenge of mercy in this holy year. There's also a special two-page Jubilee Year of Mercy feature on pages 24 and 25.
Another big story in the January edition is the reveal of The Catholic Telegraph's top 10 stories of the year, in order from 1-10 as voted by our online readers. This marked the third year CT readers had the opportunity to select the order of the top stories. This year's online poll had more than twice as many voters as the past two years combined.
The January 2016 edition also includes the annual Roe vs. Wade section, which this year contains important updates about the fight to end abortion in this archdiocese, as well as practical tips for reaching out to those who have had abortions.
There's a story about USCCB President Archbishop Joseph L. Kurtz visiting the Archdiocese of Cincinnati to talk about the recent Synod on the Family, a feature about St. Monica/St. George installing solar power and more.
Columnists Jeanne Hunt and Michael Daley return for 2016 and in A Question of Faith, Father Earl Fernandes answers, "How are priests trained to hear confessions?"
That's just a glimpse of what can be found in the January 2016 print edition of The Catholic Telegraph.
Many, but not all, of the stories from the January 2016 print edition will appear online over the course of the next month. To make sure you don't miss a single story, subscribe to the print edition HERE at no personal cost.