June edition highlights HS graduation, diaconate ordinations and more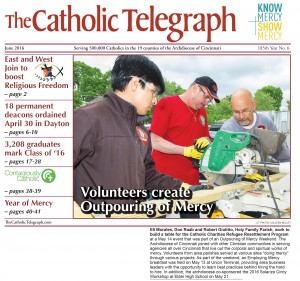 A 12-page special section highlighting high school graduation and a five pages covering recent ordinations to the permanent diaconate are the primary features in the 44-page June 2016 print edition of The Catholic Telegraph.
The newspaper should arrive in mailboxes beginning Friday, May 27.
The graduation section begins on page 17 and reports that more than 3,200 students will graduate from Catholic schools in the Archdiocese of Cincinnati this year. Graduate profiles from Fenwick, Catholic Central, Roger Bacon, McNicholas and Elder also appear in the section.
The diaconate coverage includes each of the 18 newly-ordained deacons responding to a questionnaire, and several photos from their ordination April 30.
The issue also features a story on Maronite Patriarch His Beatitude Mar Bechara Peter Cardinal Rai, who will visit the archdiocese in July as part of the Fortnight for Freedom.
Other stories:
The Oratory-in-Formation of the St. Phillip Neri Community celebrated the dedication of its residence with a blessing by Archbishop Dennis M. Schnurr.
A chef at St. Rita School for the Deaf is featured in Body & Soul, sharing about his work helping students.
A ministry out of St. Aloysius in Shandon is helping Healthy Moms and Babes by providing financial assistance and more.
Popular features like Everyday Evangelist and commentary from Jeanne Hunt and Michael Daley return, as well as many other stories.
Coverage of priestly ordination does not appear in the June edition as ordination took place after deadline. Priestly ordination coverage will appear in the July edition and is available online HERE.
Not a subscriber?
Many, but not all, of the stories from the June 2016 print edition will appear online over the course of the month. To make sure you don't miss a single story, subscribe to the print edition HERE at no personal cost.