August issue: Maronite Patriarch visits, NET Ministries growing, Courage ministry expanding and more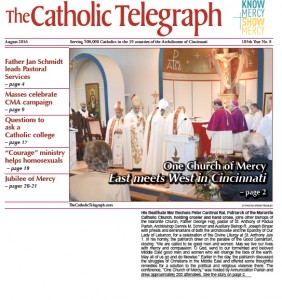 The August 2016 print edition of The Catholic Telegraph begins arriving in homes July 29 with a mix of news, features and commentary.
The cover story features East meeting West. On July 1 His Beatitude Cardinal Mar Bechara Peter Cardinal Rai, Patriarch of the Maronite Catholic Church, celebrated the Divine Liturgy alongside Archbishop of Cincinnati Dennis M. Schnurr and Auxiliary Bishop Joseph R. Binzer. The event drew awareness to religious liberty, which is particularly threatened in for Christians in the Middle East.
NET Ministries, a youth-evangelization organization, opened a regional office in the Archdiocese of Cincinnati chancery building in July of 2014. The office placement has been a success, and the staff is growing from two to three employees including the hiring of Mark Hollcraft as the new director of the Cincinnati NET Ministries hub.
Among the features in this edition is a full page treatment of Courage, a Roman Catholic apostolate serving men and women experiencing same-sex attraction. Courage has a local chapter but is adding another, as well as an EnCourage chapter for family members. The feature also gets an in-depth look at life as a faithful Catholic with same-sex desires from from two members of the group.
Additional stories include scheduling of Masses of Thanksgiving for this year's Catholic Ministries Appeal, Tony DiCello's appointment as archdiocesan director of music, Father Jan Schmidt beginning his run as director of Pastoral Services and more.
Father David Endres answers A Question of Faith on whether the homilies of priests or deacons are critiqued while columnist Michael Daley tackles the sobering reality of hell.
These stories and more can be found in the pages of the August 2016 print edition.
Many, but not all, of the stories from the August 2016 print edition will appear online over the course of the month.
To make sure you don't miss a single story, subscribe to the print edition HERE. If you are not a subscriber to The Catholic Telegraph but you live within the 19-county Archdiocese of Cincinnati, you can sign up at no cost.