Interviews with 10 ordinands, festival guide highlight May print edition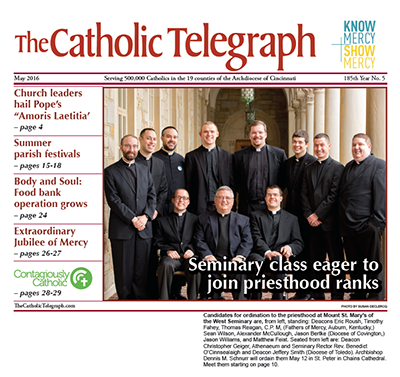 Ten seminarians from Mount St. Mary's Seminary of the West will be ordained to the priesthood this summer, and seven of them will go on to serve the Archdiocese of Cincinnati.
A question-and-answer-style interview with each of these young men who have said "yes" to God runs throughout the May 2016 print edition of The Catholic Telegraph, beginning on page 10.
Copies of the May edition should begin arriving in mailboxes as early as April 27.
The seminarians who will serve this archdiocese are Deacons Eric Roush, Timothy Fahey, Sean Wilson, Alexander McCullough, Jason Williams and Matthew Feist. The men will be ordained May 21.
The issue also features to 2016 Summer Festival Guide, with listings for more than 80 parishes. While the print listings include just the basics (dates, addresses, etc.) more comprehensive information will be available online HERE beginning May 1.
Page three of the May newspaper has coverage of the LeBlond Lecture at Mount St. Mary's Seminary, featuring Cardinal Archbishop of Galveston-Houston Daniel DiNardo. Cardinal DiNardo was a participant in the recent synods of bishops on the family.
For residents in the southern parts of the archdiocese, the May edition includes a preview of the May 15 Family Rosary Rally at Elder High School. The event's founders are turning the event over to a local Knights of Columbus council, assuring families will have this opportunity for public prayer for years to come.
A story from the north tells readers about Second Harvest Food Bank, which is working to end hunger in the Springfield area.
Also in this issue, Editor and General Manager Steve Trosley writes about the "catholicity" of the Archdiocese of Cincinnati, in reference to a recent Cincinnati Magazine piece. The usual lineup of columnists (Wayne Topp, Jeanne Hunt and Michael Daley) return as well with new and edifying content.
Many, but not all, of the stories from the May 2016 print edition will appear online over the course of the month. To make sure you don't miss a single story, subscribe to the print edition HERE at no personal cost.