Seminarian Central 2016: Meet all 10 Mount St. Mary's grads prepared for ordination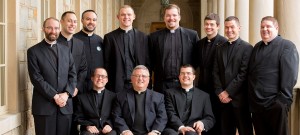 The Archdiocese of Cincinnati will ordain seven men to the priesthood Saturday, May 21 at the Cathedral of St. Peter in Chains.
TheCatholicTelegraph.com published profiles of each man throughout the week leading up to ordination. Meet those men, as well as three other seminary graduates scheduled for ordination elsewhere, below.
Seminarian Profiles
Deacon Chris Geiger (May 16)
Deacon Sean Wilson (May 16)
Deacon Timothy Fahey (May 17)
Deacon Jason Williams (May 17)
Deacon Alex McCullough (May 18)
Deacon Matt Feist (May 19)
Deacon Eric Roush (May 19)
3 to be ordained outside AoC (May 20)