Meet Deacon Peter Langenkamp to be ordained May 20, 2017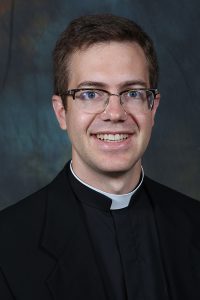 Peter Langenkamp

Family: My parents are Paul and Patricia Langenkamp. My siblings are Phillip, Elizabeth, Maria, David, Teresa, Thomas, Catherine, Regina, Natalie, and Lucy. My dad is a medical doctor. My mother is a nurse.
Parish: Holy Trinity, Coldwater
Schooling: I attended Coldwater Exempted Village Schools for K-12. I attended Ohio Northern University where I earned my bachelor's degree in mechanical engineering. I am currently at Mount St. Mary's Seminary of the West where I will receive my Mdiv and MAB.
What led you to pursue the priesthood?

I entered seminary immediately after getting a bachelor's degree in engineering. Though I seemingly had everything I needed to be happy, I had felt for some time a restlessness in my heart. Though I was not sure that God was calling me to be a priest, I knew I had to give the seminary a chance. It was only after I entered seminary that I truly came to discover the gift of my vocation to the priesthood.
What has the journey been like as you neared ordination?
Certainly there has been a growing sense of anticipation. I have been overwhelmed by the support which so many people have given me, particularly in these past few months. I am truly appreciative for the prayer and encouragement, and I eagerly look forward to ordination and priestly ministry.
Was there a single person who greatly influenced your decision to become a priest?

It would be difficult to mention just one (unless I were to say Jesus!). I have to state that I was influenced and encouraged by a "great cloud of witnesses" (Hebrews 12:1), including my parents, the priests of my childhood and college years, and finally, the influence and inspiration of the saints. All of these people have given witness to God through the living out of their vocations and so have assisted me in recognizing God's call.
What message would you offer to those who want to serve God but do not know how?
God asks some special task of each of us. Speak to Lord about your desires. We must discover this unique task for ourselves in the context of prayer and discernment.
How has being a deacon (or your practical internship) influenced the type of priest that you will be?

My experiences in parishes as both a deacon and intern have inspired me with a great desire to give people the treasures found in Christ's Church i.e. the sacraments, the Bible, the prayers, everything. I desire to be nothing more than a faithful steward of the mysteries of God (1 Corinthians 4:1).
What are some of your thoughts about beginning priestly life?

I am awed by what the life of the priest entails: it is a unique and incredible participation in the life of Christ. I am humbled by the thought of it. Any man who truly understands what this life means may grow uneasy, yet I am comforted by the words of Christ: "My grace will be enough for you" (2 Corinthians 12:9).
What advice would you offer about discerning a vocation?

Prayer, silence, reflection. A correct orientation in life, one that has God at the center. Have the courage to commit yourself to something and be bold in your discernment, as Pope John Paul the Great said: "Do not be afraid."
What will you miss most about your seminary preparation time? What will you value the most?

The comradery will certainly be missed. There is a wonderful fraternal spirit among the men which ultimately arises from a common dream and purpose: to serve our Lord and His church. A seminary is an academic institution with classrooms, teachers, and tests, etc. but ultimately it is a place where one goes to enter into a deeper relationship with Jesus. It is a privileged time and environment where one is given a special opportunity to grow closer to the Lord as one of His disciples. I value this the most.
What types of non-church jobs have you had?

As an engineering student, I spent time working at a Honda manufacturing plant and a medical company that produces CT scanners. These experiences were part of my formal engineering education, yet I also learned many things that went beyond the classroom. I learned about people and their lives. I value these experiences as gifts from the Lord.
---
Archbishop Dennis M. Schnurr will celebrate the ordination Mass for Cincinnati's three new priests at 11:00 a.m. on May 20, 2017 at St. Peter in Chains Cathedral.