Meaningful music can help keep Hispanic Catholics in the pews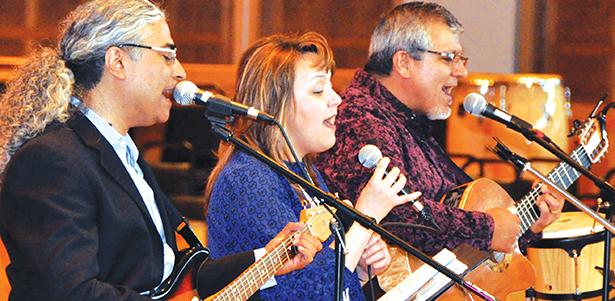 By Mary Bertolini
For The Catholic Telegraph 
The Catholic Church's door swings both ways for Catholic Hispanics in the United States, just as it does for all other cultures.  Many come in, but there are also those who leave.
Sixty-seven percent of Latino adults identified themselves as Catholic in 2010, but only 55 percent did so in 2013, according to PEW Research Center. How they can be kept in the pews is simple: don't keep them in the pews. A great number of Hispanics are charismatic, and one word to describe them is exuberant. This liturgical energy is often overwhelming to the traditional U.S. Catholics who are used to a more tempered style of worship.
The July edition of The Catholic Telegraph included a series of other music-related stories.


Music Ministry challenges ever ancient, ever new
Couple's path brings them from secular clubs, to church music
Kinzig's family ties stretch back to early 1900s
Music director loves leading people to the Lord
Couple in sync in marriage and music
Laudate prepares archdiocese youth for music ministry

These younger charismatic Catholics offer a wealth of gifts, and those more traditional Catholics, already established in parishes for generations, offer a wealth of gifts in return. Together, these groups can create an overlapping area, an environment where gifts can be exchanged without minimizing or negating the individual characteristics of one another.
The Archdiocesan Worship Office expresses a clear understanding of the need to engage Catholics in liturgy, and one strong example is its annual Laudate music workshop, which gives teens a chance to participate in voice and instrument sessions and in sessions on liturgical principles and prayer forms. Such training will serve them well as they grow into full, active parish members.
Father Louis Gasparini, Hispanic Ministry Director for the Archdiocese of Cincinnati, has this same clear understanding. "This past May, we brought to Cincinnati a group of liturgical music experts from Oregon Catholic Press. Both musicians and evangelizers, they offered attendees a beautiful concert and valuable music
workshops."
The weekend event not only provided entertainment to lift minds and hearts to God but also took the form of liturgical catechesis in the sense that it introduced participants to the idea that liturgy is more than words coming from the pulpit and the altar. It is just as much a language of ritual and music, of symbols – and yes, of physical gestures.
"We don't want just American music with Spanish words or vice versa," said Father Gasparini. "We need more than that. We need to explore and make liturgical experiences meaningful for both English and Spanish speaking worshipers." Whether traditional or charismatic, the congregation plays an important part in the liturgy of the Church. There is room for each type in a shared worship environment created by both.
Pope Francis himself started out as a skeptic when it came to charismatics, saying his first impression was that they seemed "a school of samba," a lively Brazilian dance. But recently, at the 37th Charismatic Renewal Convention in Rome, he admitted he was a convert. Speaking of the charismatics, His Holiness said, "I think of a great orchestra, where every instrument is different from another… but all are necessary for the harmony of the music."
Father Gasparini knows the Catholic Hispanic charismatics well. He has worked with different groups of them for several years and in a variety of places. Yes, they are exuberant, he said, but not only with their music and physical gestures during Mass. They are just as excited and enthusiastic in wanting to learn more about the Catholic faith and the sacraments. They yearn to become lectors, Eucharistic ministers, and catechists.
There are some groups established in parishes within the archdiocese, but there are more that have not yet found a place to call home, not because they haven't searched but because they are given the message that "there is no room in the inn" for them.
One such group lives just north of Cincinnati. As they continue their search for an area Catholic church to welcome them, they do the best they can on their own.
"This group rents an apartment to the tune of $700 a month," said Father Gasparini. "They use the living room for community prayer, one bedroom for child care, and one bedroom for catechesis."
In May when 120 children made their First Communion at St. Charles Borromeo Church in Carthage, 15 of those children were from this charismatic community. All had been "home schooled" for the preparation of the sacrament. St. Charles is too far away for the people to join the sacramental preparation classes held there, but it opened its doors to them for the reception of First Communion.
These are the sheep eager to share pasture with their brothers and sisters, eager to learn and to give of their gifts.
"It's happening," Father Gasparini said. "With Pope Francis modeling for us, with the Archdiocese committed, and with many traditional Catholics reaching beyond their comfort zone, it's happening."
This story originally appeared in the July 2014 print edition of The Catholic Telegraph.