Medical trip to Haiti humbles local surgeon
August 1, 2012
By Melinda Zemper
Dr. Steve Kleeman has traveled widely, with several recent trips to Honduras to perform gynecologic surgeries for underserved women.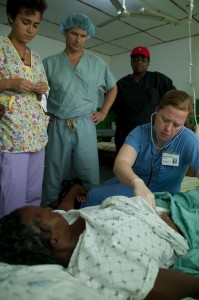 But his recent trip to Haiti completely humbled him. The people of Gros-Morne in Haiti were the poorest he's ever seen.
It's a country without an infrastructure in an area denuded of trees. It lacks roads, police, electricity and adequate medical care. And even though Haiti is a Caribbean island, and Gros-Morne is about 30 miles from the sea, the majority of people eat goat, rice and beans because there are no roads to transport, nor electricity to refrigerate fish.
Kleeman, director of the urogynecology division at Good Samaritan Hospital, with offices in Clifton and West Chester, spent April 21- 28 along with Urogynecology Fellow and surgeon Catrina Crisp and volunteers from Light of the World Charity providing general gynecology and pelvic prolapse surgery for women. Kleeman and Crisp delivered a baby via C-section for a woman who had been laboring for a couple of days. They also performed basic general surgery, but had to stop each day by mid-afternoon, not because there wasn't need, but because generator-provided electricity was unreliable. Conditions were primitive: the only operating room lights were ones provided by headlamps they wore. Hot water was non-existent, and there was no air conditioning despite 95-degree temperatures and 90 percent humidity. Surgeons were made even hotter by barrier-proof surgical gowns; it was so hot Kleeman cut off his surgical pants at the knees. Doctors and nurses went home in the evenings, so hospital patients were left alone at night to be cared for by family members.
These kinds of trips are always worthwhile," Kleeman said. "There is the obvious joy one gets when giving to those with a medical need, but those people whom we consider poor have a tremendous outlook on life and can teach us in the first world many things, like the importance of a genuine smile, a kind gesture, sharing what you have with others despite your own needs — or being prayed for. Watching a loved one sit with a patient and tend to their needs when nothing else can be done is humbling. These simple acts are more powerful than any amount of money or goods that we can bring."
The Haitian system is pretty broken, Kleeman said. "Actually, there is no system at all. There is no form of government, no paved roads, and in the Alma Mater Hospital, where we were, patients pay a fee, pick a number, and wait in order to be evaluated. The hospital provided basic care: pediatrics, maternity, radiology, two operating rooms and a cholera ward."
Cholera is considered by many to be a 19th century disease, but it's prevalent in third world countries today. It's caused by eating food or drinking water contaminated by the feces of an infected person. And while cholera can be treated fairly quickly in first-world countries by rehydration, in third world countries people die of it rather quickly. People in Haiti use the rivers to clean themselves and for drinking water. It was not unusual to see children and adults bathing naked in the river, said Kleeman.
Gros-Morne is a 4.5 hour bus ride north from Port au Prince. Kleeman said roads were paved for half the way, and the rest of the way they bumped over dirt roads and drove through creeks. It was the fourth annual humanitarian surgical trip Kleeman has taken, his third with Light of the World Charities of Palm City, Fla.. Good Samaritan Hospital donated equipment, sutures and trays of instruments. The group stayed in a safe house next door to the hospital. Because of the extreme poverty and lack of any governmental organization, such as police, it was unsafe to be outside at night. The safe house was surrounded by a concrete wall and barbed wire, and had an iron gated entrance.
"They did have running water in the house and we could run a fan or light in the evening," he said. If the doctors hadn't come, he said, most people would just do without. "It's not unusual to see people with different maladies walking down the street or with goiters," he said.
"There is little medical treatment available, and most people have basic needs like food, water and clothing."
Each morning, Kleeman, a member of St. Ignatius Parish in Monfort Heights, attended 6:30 a.m. Mass. He noticed that although Haitians were very poor, people dressed up and presented themselves well, with women wearing their best dresses and men in their nicest slacks and shirts. But much of their clothing was old and worn. Kleeman was moved to give away all his clothing except what he was wearing to the housekeeper and some patients before he returned home.
One heartbreaking incident pointed out the real tragedy of poor medical care in Haiti. A woman about six months pregnant and having seizures was carried into the hospital on a bed sheet by her family. She was given an IV. Kleeman diagnosed her with severe eclampsia, a condition in pregnancy related to hypertension that can affect about 10 percent of women.
"Unfortunately, we thought she was being prepared for delivery, but nothing was done for her for an entire day. She was eventually transferred in the back of a pickup truck for a 30-mile ride to another hospital," he said, his voice breaking with emotion. "It was heartbreaking to see her two children and extended family crying all around her."
Kleeman wanted to move toward delivery, but the local doctor in charge suggested she be transferred to another hospital because they had a pediatrician. "The baby would have died, but mother might have lived," he said, "and it bothered me to no end. I kept thinking about her in the back of that pickup truck going over those roads. I don't think she made it."
Because of the lack of organization and communication in Haiti, he was never able to find out whether or not she survived. He said he still thinks of that woman. Kleeman explained that when doctors work in other hospitals in other countries, they have to be respectful of the culture and system, no matter how different it is from ours. Despite the helpless feeling that they were unable to accomplish as much as they hoped for, he, Crisp and the doctors from Light of the World plan to continue surgical missions. He'll go to Honduras and Tanzania next year, both with Light of the World.
The surgeons feel privileged to help improve and save even a few women's lives. Volunteering helps you keep a balance in life and appreciate all you've been given,' said Kleeman, who plans to found a Cincinnati-based charity that provides humanitarian surgical missions. "We think we have problems and stressors in the United States, but these people just want to get through the day. Christ said that the poor will always be with us, and I used to wonder why that is. Now I think poverty helps the rest of us understand the beauty of every day and the simple things in life. It's very humbling to see that level of poverty and not feel helpless in the face of it. It's not often that you are given the opportunity to give something with no expectation of return. I think the poor help us understand life and give us much more than what we are able to give them."