Meet Emma Cassani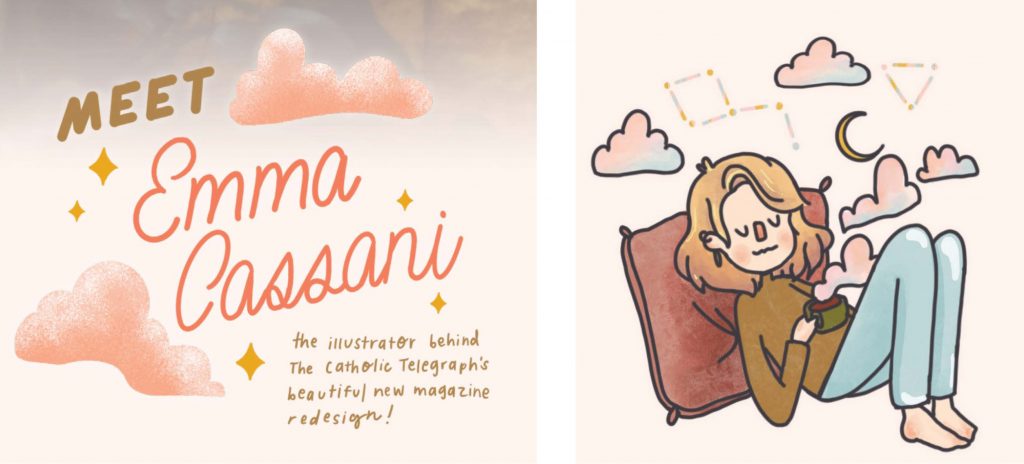 Emma – tell us a little bit about yourself!
I grew up on the east side of Cincinnati with my lovely mom, Marjie, deacon dad, Mike, and older sister, Maria. I went to IHM, St. Ursula and Marian University in Indianapolis for college. I majored in graphic design with minors in art history and pastoral leadership. I first entered Marian University pursuing a religious education degree and quickly determined that wasn't for me. I felt there was a piece of me I hadn't been paying attention to: the artist.
I talked to a lot of people and prayed about it. To be honest, I didn't really know much about graphic design, but I went for it, and I'm so glad I did.
I was also part of San Damiano, a faith community designed to prepare and form students into Church leaders in their desired major. I learned I could combine my two loves: creativity and faith.
I recently moved to Hyde Park with my good friend and roommate, Haley. We have collected and grown more than 40 house plants. It's especially important for me to be surrounded by life and beauty, as plants and the natural world have a large impact on my art. When I'm not working, you can find me hammocking, working on my bullet journal, thrifting, walking to local coffee shops, hanging with my friends or family (I'm an aunt to four!) or pampering my sister's dog.
When did art become your passion?
Ever since I could hold a crayon, art has been a strong passion of mine. I always looked up to both my grandmothers who were artists – my dad's mom, Nana, a watercolor painter, and my mom's mom, Grandma, a pen-and-ink artist, art teacher and crafter.
Art can manifest itself in many ways. What drew you to illustration work?
I went to school for graphic design, but even through my classes, I found I appreciated the creative freedom and playfulness that illustration allowed in design. I felt graphic design often lacked the human quality fine art has. Illustration was a way for me to connect fine art and graphic design. In my design work, I do many things by hand instead of jumping straight to the computer. I like the organic, hand-crafted quality and texture drawing-by-hand allows.
Why do you think it's important to connect your art style with your faith?

My art style is constantly growing and changing. But what stays the same is its whimsical, playful and often childlike quality. There is also a sense of the simple, everyday life in my work, which I think is important to incorporate into Church art.
When you think of faith-related art, the beautiful Renaissance classics come to mind – and that's great. But, these amazing and perfect artworks can lack a sense of relatability to us today. The Renaissance artists rendered God and the saints as heavenly and perfect beings. This is true in some sense, but God was also human. The saints experienced life and its many sufferings. The goal of my faith-related artwork is to show the "humanness" of the holy figures.
What / who inspires you?

Whenever I'm starting a new project, I have to sit down and be in a space that is inspiring. I like to be surrounded by nature. So, that may be a walk down the bike trail, sketching in the park, sitting in my office window, or enjoying a hot drink in my comfy chair surrounded by my many house plants. I've always seen God through nature, which might be a part of why I find it so comforting and inspiring.
I am inspired by the "little things" in life, the things that might be overlooked, mundane or under appreciated: the experience of enjoying a hot coffee or tea, a well-sunlit corner playing with shadows, a new bud on a plant, the symmetric patterns of moths.
My favorite artists/designers/illustrators of today are Cheyenne Barton, Rebecca Green, Kay Hunt (Ohkayyay), Steffi Lynn (Have A Nice Day), Jenna O'Brien (shoptwentyseven) and Chandler Subra. I am so inspired by these women, their techniques, subject matters and fun, childlike outlook on life.
I am also heavily inspired by the impressionist period. My favorite artists are Van Gogh and Matisse. I love Van Gogh for his "painterly" style (the ability to see brush strokes and texture), dreamy point-of-view, and how he experiments with light and color. I love how Mattise exquisitely uses bold color, line and perspective to convey emotion and whimsy.
What other Catholic artists would you recommend readers take a look at?

Check out Erica Tighe-Campbell (Be A Heart), Tisa Muico and Tricia Dugat (Providential Co). I am inspired by these incredibly creative Catholic women artists.
What's your advice for budding artists?
In the words of Matisse, "Creativity takes courage." Don't be afraid to push yourself, challenge yourself. If you want to show your inner thoughts and feelings, don't be afraid to be vulnerable. If you want to say something with your art, don't worry what other people will think, just say it. If you want to sell your work, do it. Stop holding yourself back. You were made for great things. Take risks, make connections, be patient with yourself and do not compare your work to others. Practice, practice, practice and pray.