Meet Juan Grajeda to be ordained in the Diocese of Tulsa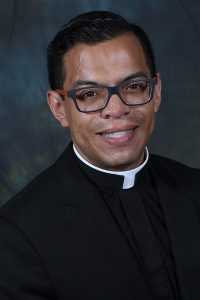 Juan A Grajeda
Family: Juan Grajeda, Rocio Gutierrez
Parish: San Miguel Arcangel, Cocula, Mexico.
Diocese of Tulsa
Schooling: Seminary of Guadalajara; philosophy and theology. Mount St. Mary's Seminary of the West; theology.
What led you to pursue the priesthood?
I wanted to be priest since I was very young. I was an altar server and I always had the desire to become a priest.
What has the journey been like as you neared ordination?
It has been great. Sometimes it is difficult, but in general, it has been the best life I could want.
Was there a single person who greatly influenced your decision to become a priest?
My grandparents were very respectful to the priests and they love the priesthood. Also priests from my home parish.
What message would you offer to those who want to serve God but do not know how?
If God is calling you, just give Him a chance. Try the life of the seminary. It is the only way to discover if God is calling you.
How has being a deacon (or your practical internship) influenced the type of priest that you will be?
I like being a deacon. It is very amazing to be so close to the moment of consecration when heaven and earth come together. I want to be a priest, close to the people, and close to God as a bridge of grace.
What are some of your thoughts about beginning priestly life?
I just want to do everything as best possible. The people of God deserve the best that we can offer to them. The church is the best mother and her children deserve our care.
What advice would you offer about discerning a vocation?
Open your heart to grace. God calls whoever He wants, and everywhere. Just be open.
What will you miss most about your seminary preparation time? What will you value the most?
I have been in the Seminary for a very long time; I think I will miss the schedule. At the same time, I think it will be very helpful to have the time to organize my own schedule and put my spiritual life and apostolic work first.
What types of non-church jobs have you had?
I helped my father when I was young. I learned to work leather, but I went to high school seminary so I had no formal work.
What type of extracurricular activities did you enjoy in college? High school?
I was on the racquetball team and the running team. When I was in theology in Mexico I was on the vocations promotion team.