Men to be ordained to the priesthood for Cincinnati May 19
April 23, 2012
By Stephen Trosley
Four men will be ordained May 19 at 11 a.m. at the Cathedral of St. Peter in Chains by Archbishop Dennis M. Schnurr, beginning their priestly ministry in the Archdiocese of Cincinnati. A fifth man will be ordained at a later date and return to his home diocese of Youngstown.
The four remaining in the archdiocese, Deacons Matthew Robben, Marc Soellner, Jon-Paul Bevak and Daniel P. Hunt, are anxious to learn of their first assignments and all profess an eagerness to enter their ministry.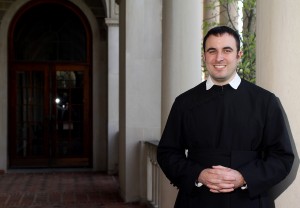 Deacon Jon Paul Bevak
Deacon Jon Paul Bevak says he always wanted to be a priest and recalls fondly his great uncle being a priest.
"I played Mass when I was a child," he recalls, "but the call was reaffirmed often as I grew up and was reaffirmed when I attended the Pontifical College Josephinum in Columbus," where he majored in philosophy and history. He interned at St. Patrick Parish in Kent in the Youngstown diocese.
That historical grounding makes him believe the challenges facing the church today are not much different than they have been in the past. "This age is no different than others," he said. "We tend to want to think these sort of challenge are confined to the present, but the church has often been at odds with society."
The Youngstown native, who now calls Cincinnati home, looks forward to saying Mass and "helping people experience God through the sacraments. Jesus can make a difference in a deeper way."
The son of Paul and Mari Ellen Bevak of Campbell in the Diocese of Youngstown, he will say his first Mass at Old St. Mary's Parish Cincinnati's Over-the-Rhine and also say a Mass of Thanksgiving at his home parish of St. Joseph the Provider in Campbell.
Deacon Bevak will become one of the founding members of a St. Phillip Neri Oratory here in Cincinnati. The Oratory will its public debut April 28.
Deacon Daniel Hunt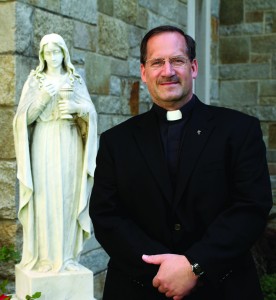 Deacon Daniel Hunt says he's more mature and a little bit wiser as he enters the priesthood at age 56.
Despite studying history at the University of Cincinnati, his hands tell the story of a man who has known the physical labor of a craftsman as the Cleveland native who now calls Cincinnati his home spent many years building show cabinets.
Those skills, and handyman skills taught to him by his late father, have transferred well to the parishes where he has spent summers during his seminary years.
Deacon Hunt interned at Guardian Angels Parish in Mt. Washington and he will celebrate one of his first Masses there. His other Mass of Thanksgiving will be at Holy Cross-Immaculata Parish in Mt. Adams.
He is the son of the late William Hunt and Margaret Hunt of Parma.
Deacon Hunt says he loves the city (Cincinnati) and being with people. He's looking forward to preaching and teaching catechism after he is ordained. He drew his vocational inspiration from an uncle who was a priest "and was my best role model after my devoted parents."
He believes his maturity and wisdom will help him face the challenges of the priesthood and the challenges facing the church.
Deacon Matthew Robben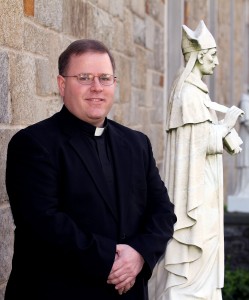 Deacon Matthew Robben was five or six years old and attending Mass with his family when he heard a voice tell him, "Matt, I want you to be a priest."
To some men, the call to serve Jesus comes early. Deacon Robben, youngest boy in a family of 14 children, assumed his brother next to him was teasing him so "I hit him. Of course, then my Mom corrected me," he said. His brother maintains he did not utter the call.
After graduation from Elder High School in 1990, he thought he wanted to be a high school teacher and so the Cincinnati native was on his way — to being a restaurant manager. He went to the University of Cincinnati so he could be a high school history teacher, but eventually found himself at St. Thomas More, earning a teacher's certification and working in maintenance at the northern Kentucky college.
It was there he met George, a janitor who invited him to go to Mass, an invitation he resisted. He eventually relented and rediscovered his calling.
Deacon Robben interned at St. Antoninus Parish in Covedale and will celebrate his first Mass at St. Joseph in North Bend. He is the son of Anthony and Anna Mary Robben of Harrison.
Deacon Robben is looking forward to teaching and preaching and says the challenges facing the church today are not that different from other times in her history.
Deacon Marc Soellner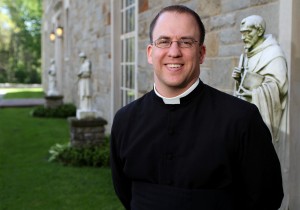 Deacon Marc Soellner first felt drawn to the priesthood when he was in fourth grade.
His journey towards his May 19 ordination date grew during his days at The Summit Country Day School and in St. Andrew Parish in Milford, and he looks forward to saying Mass and hearing confessions.
Deacon Soellner did his internship at Assumption Parish in Mt. Healthy and will celebrate his first Mass at St. Andrew.
"I want to be focused on bringing others closer to God and I have grown to love the Mass," he said. He thinks he would be happy in a parish or teaching and holds a bachelor of arts degree in history from the University of Cincinnati.
"It takes courage to follow Jesus in today's society," Deacon Soellner said, and he understands that "it's not easy to be alone." But he thinks it is important "to want to so something special and strive for holiness."
"Example is everything," he said.
He is the son of John and Shirley Soellner, both of Milford.