Ministries help students make Catholic connection at college
March 7, 2012
By Patricia McGeever
When Stephanie Lochtefeld arrived on the University of Cincinnati campus as a freshman last year, she had a vague idea of where she'd attend Mass.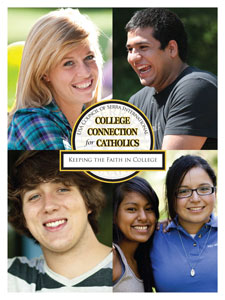 "I knew the church was called St. Monica-St. George. I Googled it and found where it was," she said.
The sophomore from Maria Stein attended Mass regularly at home and intended to continue once she was out on her own. It was made easier by the Newman Club, a Catholic organization on campus. The group put up posters inviting freshman to meet at a certain time in the lobby of their dorm and someone from the group's leadership team would escort the freshman to Mass.
When Grace Gilles arrived on the UC campus from Cleveland, she received a welcome packet from the St. Monica-St. George Newman Center. "I was excited to participate," she said. "Everyone there was super welcoming and really friendly." The Newman Center offers a weekly community dinner on Thursday nights, Mass on Sundays and various other social events.
It's one of the many ministries urging college students not to abandon their Catholic faith once they get a taste of independence. Another one is called College Connection for Catholics (CCC). It's a volunteer organization affiliated with Serra International and NET Ministries. Serra International is a worldwide organization dedicated to fostering vocations. NET Ministries is a Minnesota-based nonprofit where young Catholics travel and evangelize about their faith.
CCC's goal is to link college-bound high school seniors with campus ministry programs at the schools they will be attending. The group starts by sending a personalized letter to the senior and then follows up with packets of information about Catholic organizations and social activities at the students' respective colleges. Jim Bien is the local volunteer coordinating the effort. He says he was able to distribute information to about 1,000 students last year. This year he hopes to be able to reach all graduating seniors in Catholic schools in the archdiocese. He adds that incoming freshman might be vulnerable to outside influences and wants to help keep them in the pews. "If I only get five kids, at least I'm evangelizing somebody," he said.
He expects to begin contacting high schools in March. Since it is still relatively new to the Cincinnati area, those involved in campus ministry work at both the University of Cincinnati and Miami University say they are unfamiliar with CCC. They say they haven't yet noticed an impact from it on their campuses. Both schools have strong and active campus ministry programs.
Lochtefeld says she did notice that Mass attendance for some people did drop off a bit freshman year. "It happens. It does. But midway through freshman year, most of the people come around." She is now on the leadership team of the Newman Club and escorted this year's freshman to Mass.