Athenaeum's Immaculate Conception Chapel renovated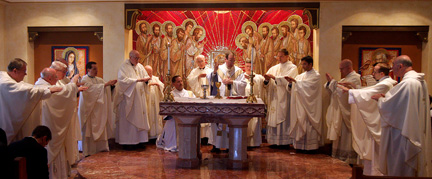 March 7, 2012
ARCHDIOCESE — The generosity of a donor who wishes to remain anonymous coupled with the vision of Cincinnati Archbishop Dennis M. Schnurr has enabled the Athenaeum of Ohio/Mount St. Mary's Seminary of the West to renovate the small Immaculate Conception Chapel in the landmark building's east wing. The chapel was dedicated in December.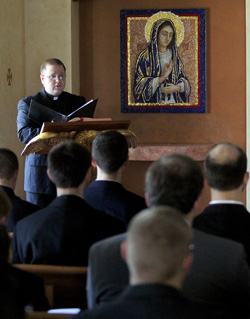 The project was promoted by the archbishop because he saw a need to provide space at the Athenaeum more conducive to private prayer, meditation, and silence. An overall redesign was created with elements beneficial to the formation of seminarians for the priesthood and for students —men and women — studying at the Athenaeum.
The remodeled chapel includes a large, new crucifix in the nave, a new mosaic of the Immaculate Conception in a niche behind the altar, with mosaics of St. John and the Blessed Mother on either side. "What is necessary for the formation of priests and laity in the Church today and for the years ahead?" asked Father Anthony Brausch, vice rector of Mount St. Mary's Seminary of the West. "When one enters into the chapel, what would be beneficial for them to see and meditate on in order to form their hearts in this way?"
"The answers to these two questions provide the overall theological vision of the chapel. The answer to the first is the same as it was for the first followers of Jesus: to be formed in such a way as to be His witnesses to the world; to know the nearness of Christ, to bring others near to Him and bring them into communion with His body, the church.
"The answer to the second question flows from the first: to meditate with those who are near to the Lord, meditated on His word, and passed that word on to us."
CT Photos by E.L. Hubbard