Moeller senior has passion for music, service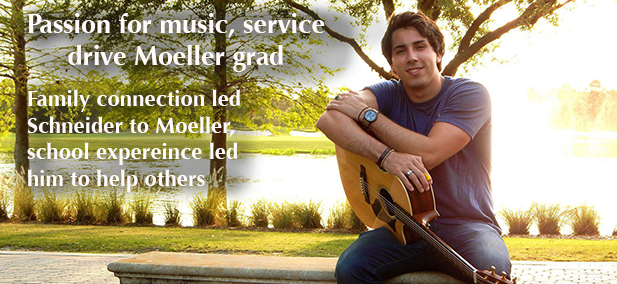 By Eileen Connelly, OSU
The Catholic Telegraph
A childhood birthday gift led to a lifelong passion for music for Matt Schneider, who recently graduated from Archbishop Moeller High School.
Schneider, the youngest of four children, grew up in our Lady of the Sacred Heart Parish in Reading and attended St. Nicholas Academy. When the idea of learning to play a guitar caught his interest, Schneider asked for, and received, one for his birthday, and began taking lessons. He acknowledges growing weary of the lessons after just a few weeks, but his grandmother insisted that he continue and drove him there herself for the next five years.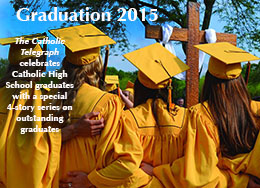 More Stories of Outstanding Grads
Alter student a testament to parental love, school support
Royalmont senior literally in a class by himself
"I started writing songs at about 10 or 11, and have been at clubs around Cincinnati since my early teens," Schneider said.
The decision to attend Moeller was "a no brainer," he said, given that his father, two older brothers and cousins are alums of the school. At Moeller, Schneider has been involved with the Pastoral Ministry Executive Board, helping to organize all pastoral ministry events, from service opportunities to school liturgies. He has participated in canned food and blood drives and taken on an active role in Unified for Uganda (U4U). The student run organization started as a simple club at Moeller and has since grown to encompass more than 30 high school and college chapters in the Greater Cincinnati area. Its mission is to support the education of destitute children in northern Uganda through the empowerment of American youth. Schneider is currently an intern with U4U and helps coordinate the organization's sponsorship efforts.
Schneider attributes his commitment to service and sharing his gifts with others to his parents, Phil and Mary Carole, and older siblings.
"I grew in a family that believed in being involved and meeting new people. My siblings did that through sports. For me, it's been through service and music. I've become close with the guys I work with and been able to figure out who I am as a person."
His experience at Moeller has taught him that "the more you get involved, the more you realize how fortunate you are. If there's anything that Moeller taught me it's how to work with people and be open to new experiences and relationships. Moeller has been the best time of my life thus far."
Amid his studies and high school activities, Schneider has also been able to devote serious time to his music. He is drawn to both the pop and blues genres and has been influenced by artists such as B.B. King, the Beatles, Eric Clapton, Jason Mraz and John Mayer. He has recorded two albums (the first sold several hundred copies, and the second between 700-800) and auditioned for "The Voice." He is currently working with a Nashville-based company to secure a possible recording contract.
Noting that it's "important to me to continue my Catholic education," Schneider is bound for Xavier University, where he plans to major in marketing. His hope is to continue pursuing "my number one passion," including opportunities to work with non-profits that helped connect people through the power of music."
Schneider has already penned one tune that reflects how he has been affected by working on behalf of Ugandan children titled "Take a Stand."
"It's about what the kids have done for me, what I've learned from them," he said, citing the refrain, "So we take a stand,
Reach out your hand.
Reach for the stars,
for those who can't.
Make a fight for each other,
for the sisters and the brothers.
Till we live together and injustice is uncovered."
This graduation feature originally appeared in the June 2015 print edition of The Catholic Telegraph