Men of Moeller through the decades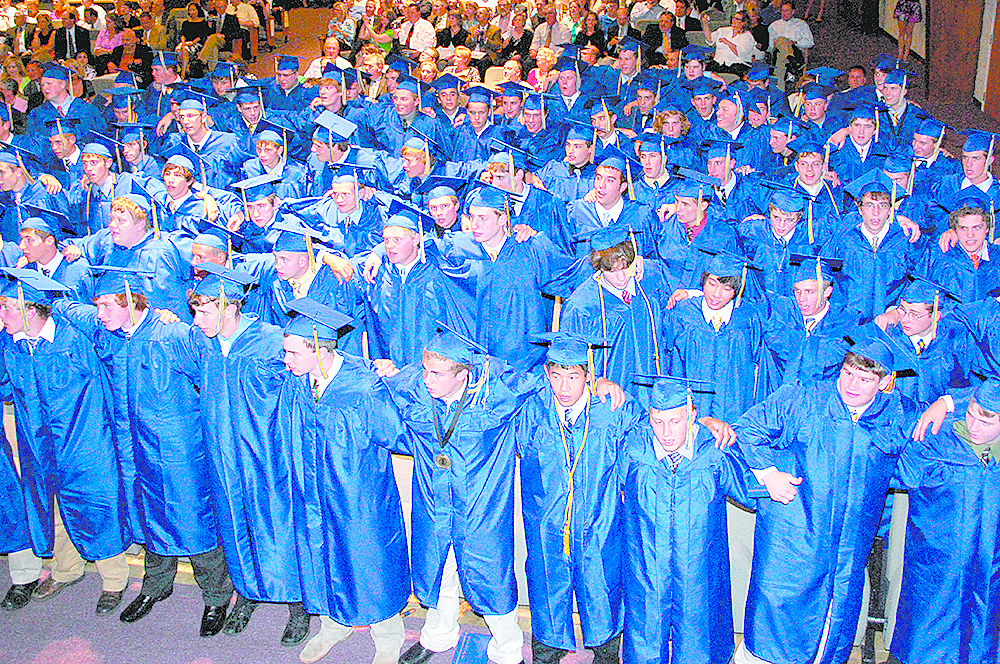 How brotherhood among alumni helps Moeller's future students succeed
Mary Fischer, director of alumni engagement at Moeller High School, calls them a band of brothers.
Moeller Advancement Director Mike Volan, considers them the Moeller family.
Alumni of Moeller are connected forever, they say. And at Moeller, as they are to Catholic high schools throughout the Arch¬diocese of Cincinnati, they are also vital to the ongoing success of their schools and vital to the future of Catholic education in southwest Ohio.
It is a two-way street — schools reach out to engage alumni in a variety of ways, while alumni show appreciation for the educational foundation they received. At Moeller, "by 'giving forward' with their time, their talents, and financial help, alumni ensure future generations with have the opportunity to become 'Men of Moeller,'" Volan said.
A concerted effort is underway at the Montgomery high school to raise alumni awareness and participation to 25 percent from the current 12 percent, Volan said. "While we have increased annual fund participation from four percent several years ago, to more than eight percent two years ago, to 12 percent last year, that is still low," Fischer added.
Volan stresses that the school must initiate and maintain contact with all alumni to succeed.
Mike Munafo, president of the school's alumni association, said the association strives "to really keep alumni engaged. "Moeller is a family," he said. "When you graduate from school, you don't leave your family. You move on to the next step in your life and the work of the alumni association is keeping people up to date about how great Moeller is, and how we are staying on the top as far as providing Catholic education.
"Obviously, I don't think we've even scratched the surface on the drive to increase alumni involvement and giving," Munafo said. "The new approach of having classmates from a given year calling their fellow classmates really brings family back. They realize they are still connected to Moeller. And getting a call from a classmate goes a lot farther than having a current student go through a Rolodex."
Not all alumni know they can help their school, he said. "Moeller has some big names out there and it costs a lot of money to go there, but then they don't realize we are in an aging facility that needs to be brought up to date, and that we have to subsidize tuition. A lot of families can't afford it; and there's really a gap between the actual cost to go to Moeller and what we charge. A lot of that is made up by alumni through the annual fund."
Moeller's need for alumni support is mirrored in Catholic high schools throughout the archdiocese. Alumni shoulder a great part of the burden to ensure their respective schools remain successful in a changing world.
"My philosophy," said Volan, "is that when men graduate from Moeller, it's not the end of their relationship. It's just the beginning of the next phase. It is a lifetime connection. They will always be alumni of Archbishop Moeller High School.
"The question is: Now that we have established that lifelong relationship, how do we make the most of it? What's meaningful to the alums and to Moeller High School? It's an ongoing partnership, so engagement can be a lot of things. People think of financial support as an obvious. There's a lot more.
"It's helping with admissions by encouraging people to consider the Moeller experience. Perhaps it's coming back to share some of your life's work experience with young men who are here today. We've called a lot of alums in to ask them to talk to a class about their chosen profession or specialty. We are also looking for other ways it can really be meaningful for the alums, maybe networking opportunities."
The giving committee has discussed new events such as seminars for alumni about retirement and estate palling, he added.
"It's a service to our alums. We think about utilizing the resources we have within our own alumni community and how to help make that happen. Alumni can continue to be ambassadors for us forever, and I think the most critical piece is that we have to actively provide opportunities for them to stay connected whether they are in Cincinnati or halfway across the country or around the world."
Marshall Hyzdu, the school's recently appointed president and catalyst for the drive to increase alumni involvement, has been visiting cities to reconnect with alums.
"Marshall and I just got back from Houston a couple of weeks ago," Volan said. "It was the first time any of them there could recall someone reaching out like that to them. It was extremely well received. We had about a half a dozen. It was a start. We have 50 alums in Houston; there are a doz¬en plus in Austin and there are more than 60 in Dallas-Fort Worth. Maybe we'll do a three-day tour in the fall."
Volan said Hyzdu has visited alumni in Atlanta, Chicago and Florida and found "an incredible bond."
"He is out all the time," Volan said. "He sleeps; he eats; he breathes Moeller. We could not have a better individual leading us. He loves the school. He loves the fact he can give back to the community. He is looking at affecting lives for the better, and he looks at the impact of what Moeller provided him."
Fischer said she has worked hand-in-hand with Moeller alumni for more than five years, and knows how important their support is for the school and for Catholic education in general.
"The alumni association is the biggest opportunity for us to continue to grow and continue to sustain Catholic education," she said. "Without our alumni base we would not be able to continue to make our mission work.
"It is critical. Just under 50 percent of our students qualify for financial assistance. Money from the annual fund subsidizes the tuition we charge and there is a gap there as well. We also have to raise money for any capital improvements, and for our endow-ment, to ensure money will still be available in the future. The biggest conglomerate of constituents is our alumni. Others are parents, past parents and businesses."
Moeller, she said, has graduatd "just over 11,000 from the first graduating class of 1964. We are relatively young. Our alums who are turning 70 or 71 provide us a his¬torical perspective and legacy.
"Many alums decide to send their sons to Moeller, so now we are entering the three -generational stage. Our alumni are some of our biggest advocates and salespeople. When someone leaves Moeller and goes on to college — which is 99 percent — they are our biggest examples and advocates.
"Alums spread our brand to all of the different cities they move to," Fisher added. "When you go to a different city and you get a bunch of alumni together, it's wonderful. My favorite events are those where we have alumni from all of the generations. We always hope we have a representative from each decade, and when they come together, you see firsthand it is a band of brothers."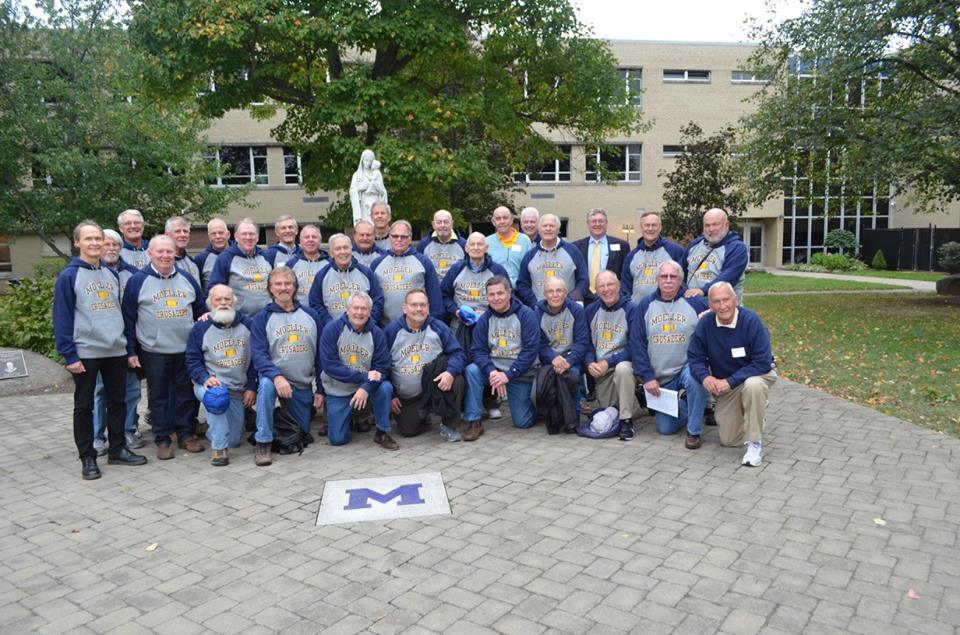 This story originally appeared in the June 2017 edition of The Catholic Telegraph. In June the Senior Trip for the Men of Moeller, lead by Brother Ron Luksic, arrived at the Vatican.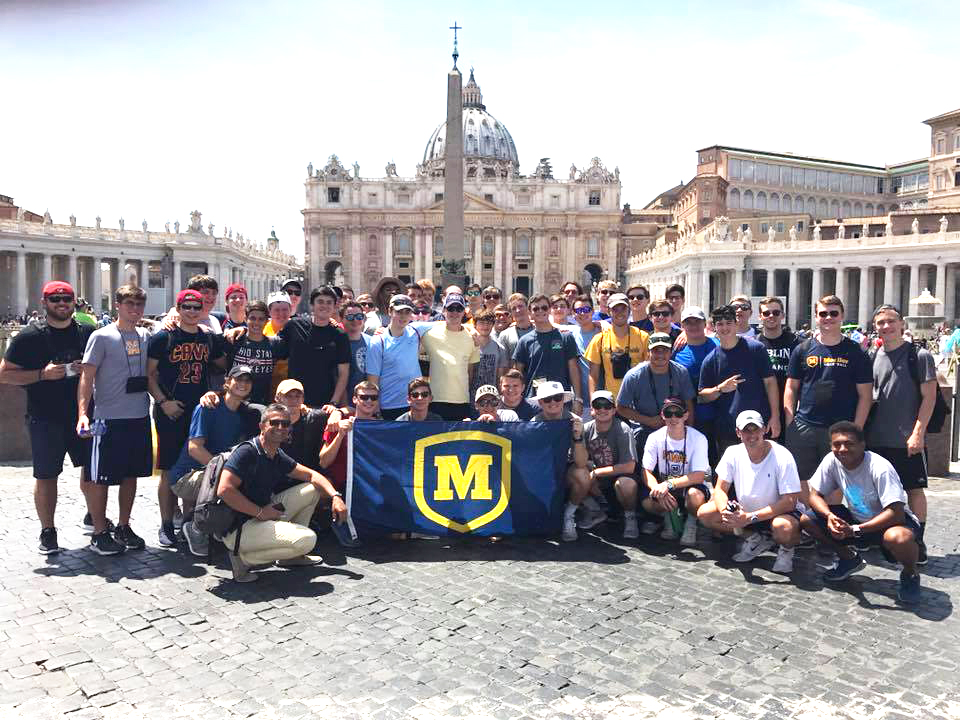 This article appeared in 2017. Today we celebrate Moeller High School alum, Sam Hubbard as he prepares for the Big Game.