MORE THAN $1 MILLION IN TUITION AID APPROVED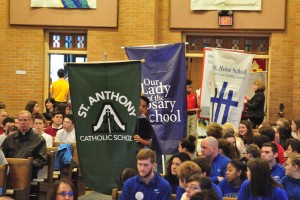 More than 1,200 families will be offered Catholic elementary school scholarships next week, thanks to an expenditure exceeding $1 million from a new tuition assistance fund in the Archdiocese of Cincinnati.
The needs-based awards for the 2017-18 academic year are the first in a permanent program funded by the Archdiocese's historic One Faith, One Hope, One Love capital campaign. The awards received approval this week from directors of the Catholic Education Foundation, the entity overseeing the tuition program.
Awards range from $250 to $1,000. Families will be notified by mail next week whether they qualified and for how much.
This year's application period was split into two rounds so the first could provide an early assessment of needs and volume of requests. Applications are being accepted until Feb. 28 for a second round of scholarships, to be approved by the CEF board on March 8. Application details and options can be found at catholicbestchoice.org/tuition-assistance/
The plan is to spend more than $2 million for scholarships next academic year. That includes at least $1.54 million for elementary school pupils and $460,000 distributed through high schools.
One Faith, One Hope, One Love has raised more than $166 million in pledges to date, with more than $66 million already redeemed. Funds for Catholic education represent the campaign's largest component, including creation of a permanent endowment to extend the tuition assistance program for generations to come. For updates and more details on the campaign, go to 1faith1hope1hope.org.
The Roman Catholic Archdiocese of Cincinnati is the 38th largest Catholic diocese in the country, with almost 500,000 Catholics, and has the sixth largest network of Catholic schools in terms of enrollment (27,282 K-8, total enrollment 39,978). The 19-county territory includes 211 parishes and 111 Catholic primary and secondary schools.