Mother of Mercy teacher suspended over abuse allegation from 1970s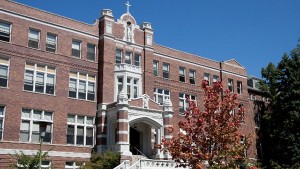 By John Stegeman
The Catholic Telegraph
Mother of Mercy High School, a private all-girls Catholic high school in Westwood, has confirmed the suspension of a female teacher over an abuse allegation from the 1970s.
Parents were notified in a letter from the school on May 7 that the teacher was placed on an immediate leave of absence after the allegation was made.
Mother of Mercy President Kirsten MacDougal provided a statement to The Catholic Telegraph Monday.
"Currently, science teacher Carolyn Rost is on Administrative Leave of Absence as a result of an allegation of sex abuse from the 1970s," MacDougal said. "Our students' safety has been, and will continue to be, our top priority.  We are in the process of selecting an investigator and will be conducting a thorough and complete investigation. In so doing, we encourage anyone who may have information about abuse in the 1970s, or at any point in time, to contact the school's administration and/or local law enforcement officials. We ask for prayers for all involved as we go through this challenging time."
MacDougal confirmed that the teacher was investigated twice before on the same allegation. According to MacDougal, the allegations first surfaced in 2005, at which point the school hired a private investigator, turned the investigation over to the Hamilton County Prosecutor's Office and informed the Archdiocese of Cincinnati.
"None of those investigations resulted in criminal charges nor evidence of sexual misconduct," MacDougal said. "The allegation was raised again in 2009, which Mercy's attorney investigated and now the former student and her family has returned with the same allegation and names of potential witnesses. So therefore a new investigation is underway."
Mother of Mercy High School is a private high school sponsored by the Sisters of Mercy.