Mount Notre Dame High School welcomed Rachael Adams Bronze Medalist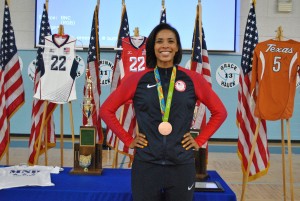 Mount Notre Dame High School was proud to welcome home Rachael Adams '08 (and her 2016 Olympic Bronze Medal) on August 29, 2016! Rachael was gracious enough to share her journey and experiences with the Mount Notre Dame community. Mount Notre Dame declared August 29th as Rachael Adams Day!
Rachel Adams began her journey at Mount Notre Dame High School in the Fall of 2004. In her Freshman year she played on the Junior Varsity Volleyball team and Freshman Basketball team. Her sophomore year saw her playing Varsity Volleyball, with an Honorable Mention in the GGCL, and Junior Varsity Basketball Team. The 2006-2007 season at Mount Notre Dame saw her play on two state championship teams: Varsity Volleyball and Basketball. In her senior year, the Varsity Volleyball team was State Runner-Up and she was voted "Miss Likely to Become Famous".
Judy Back Grewe '78 Head of the School had this quote: "Mount Notre Dame was thrilled to welcome Rachael Adams home! It is truly a gift to have our current students witness a graduate who is living out our mission "to empower young women to learn, live, lead and serve." We are so proud of Rachael and the USA Olympic Volleyball Team for winning the Bronze Medal!"
Story Posted August 30, 2016