MSJ plans social justice program for students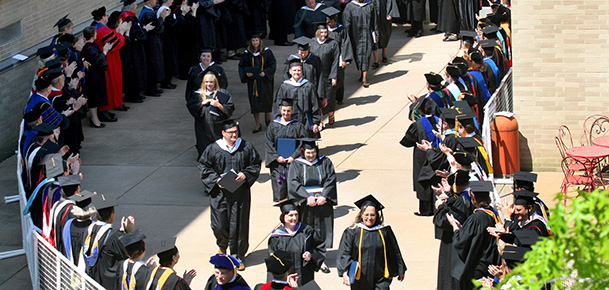 By Eileen Connelly, OSU
The Catholic Telegraph
How do I live my faith in today's society? What do I want to do with my life? Recognizing that students grapple with these and other questions during their college  years, Mount St. Joseph University hopes to soon sponsor JusticeWalking, a"discipleship journey" that forms small communities of young adults as they experience living the Gospel message and realize the social implications of their faith. JusticeWalking (also known as J-Walking) is a program of JustFaith Ministries (JFM).
Founded by Jack Jezreel, JFM is a nonprofit organization that forms, informs, and transforms people of faith by offering programs and resources that sustain them in their compassionate commitment to build a more just and peaceful world. When Sister of Charity Nancy Bramlage, director of mission and ministry at MSJ, heard Jezreel speak about JFM's programs, specifically J-Walking, she realized it could benefit their students.
Read More from the August 2015 College Section
Make all things new: Dayton chapel renovated
Xavier website offers new resources
"They're at the stage of their lives that they are making important decisions. We believe this is journey, a discernment process that could be helpful for them," she said.
The program, which is not for credit, is best suited for sophomores, juniors and seniors with previous community service experience. It brings students together for 10 sessions, during which the group will dialogue, reflect and pray, in addition to going out into the community and meeting face to face with those who are marginalized, learning about their lives and struggles.
A two-day Justice Pilgrimage enables the students to visit various local service sites to further engage in relationship building and examine justice issues through the lens of faith.
As a group, Sister Nancy said, the students will discuss, "what they discovered about people living on the margins that they never knew before; what they are dealing with in light of Catholic Social Teaching, Christian Scripture and the life of Jesus, and what they can do about it."
JusticeWalking will give students the chance "to go in depth with their faith life and meet people that they wouldn't ordinarily rub shoulders with," Sister Nancy said. "It could lead them down a different career path than they expected and even be life changing."
For more information about JusticeWalking, contact Sister Nancy at 513-244-4844.
This story originally appeared in the August 2015 print edition of The Catholic Telegraph.