Friday Photo: Human Foosball main attraction at Catholic festival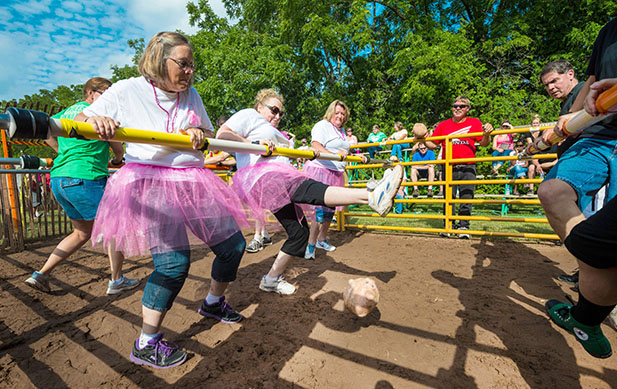 Staff Report
In Stephensville, Wis., St. Patrick's parish has long hosted a summer festival with pig wrestling as the main attraction. Concerns over the practice put an end to the pig wrestling but the parish came up with a new event — human foosball.
The inaugural human foosball tournament at the parish featured 18 teams with six players competing inside two outdoor pens (foosball tables) created using livestock gates and metal bars. Players held onto the bars while attempting to kick the foam rubber ball into a goal. Two of the 18 teams consisted of diocesan employees.
In the photo above, women in tutus kick the pig-themed, Nerf-life ball. Read more about the event HERE.
This photo shows just one of the ways Catholics around the country come together for summer festival fun. While none of the parishes of the Archdiocese of Cincinnati are advertising human foosball, there's a plethora of family-friendly events and activities taking place across the area all weekend. For more information on which parishes are having festivals this weekend, visit The Catholic Telegraph's 2015 Festival Guide.
Previous Friday Photos
Meet "Pope Francis" at a festival
Food for All kickoff
Behind the Scenes on Food for All
Moeller student takes in Germany
That's not a mitre Holy Father
Welcome to Friday Photo. A post where The Catholic Telegraph staff select an image that shows the vibrant life of the faith community in the Archdiocese of Cincinnati, and around the world. To submit a photo for consideration, email John Stegeman with "Friday Photo" in the subject line.
Posted August 14, 2015