Divorced and remarried cannot receive Communion, Colombian bishops affirm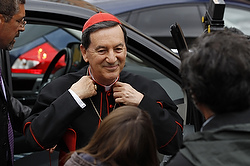 CNA/EWTN News
Two Colombian bishops indicated on Thursday that while the divorced and remarried are not excommunicated, that still doesn't mean they are able to receive Communion – in an attempt to clarify recent confusion.
At an Aug. 6 press conference, Cardinal Rubén Salazar Gómez of Bogota explained that while the divorced and remarried remain part of the Church and are not excommunicated, they are impeded from receiving Eucharistic Communion.
The archbishop indicated this after various media reports misinterpreted the statements made by Pope Francis at his Aug. 5 General Audience, in which he discussed the divorced and remarried.
Pope Francis had said that the divorced and remarried "are by no means excommunicated, and they should absolutely not be treated as such: They are always part of the Church," while adding that "such a situation contradicts the Christian Sacrament" of marriage.
Some media outlets focused exclusively on the Pope's words assuring that the divorced and remarried are not excommunicated, and ignored his statement that the situation contradicts marriage.
In light of the media's confusion, Cardinal Salazar explained, "it cannot be said that Pope Francis said the divorced and remarried can receive Communion."
This statement, he added, is nothing new in the Church.
A divorced and remarried person, the Colombian cardinal said, "is not excommunicated from the Church, rather, they continue to be part of the Church. The Church considers them as a member of her community; but the doctrine is constant and there is no innovation here."
Bishop José Falla Robles, auxiliary of the Cali archdiocese, added that "the Catholic Church has never considered persons who are divorced and remarried to be excommunicated."
Excommunication is, in fact, a medicinal penalty, and an excommunicated person cannot have a ministerial participation in worship; celebrate or receive the sacraments; or exercise ecclesiastical offices, ministries, or functions.
Bishop Falla said Pope Francis' comments during the General Audience clarified that the divorced are not excommunicated and that they have a place in the Church: "they are the sons of God and of the Church – therefore they should be provided with spiritual care and allowed to participate in the Church's life."
Posted August 13, 2015