Throwback Thursday: Cutting edge tech lets student learn from home in 1962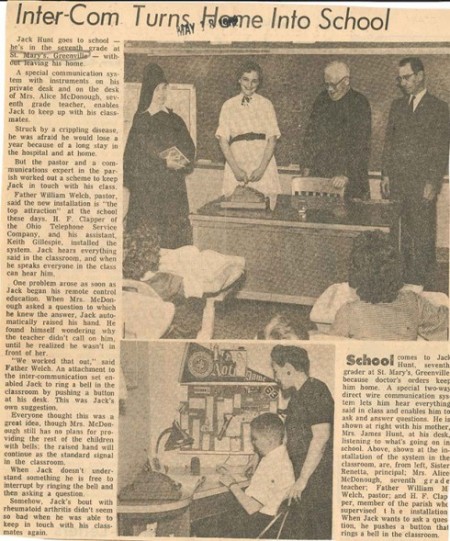 Staff Report
Students are heading back to school already in some parts of the Archdiocese of Cincinnati already, and more are starting soon. With that in mind, today's Throwback Thursday examines a unique story of a Catholic school utilizing the best available technology to serve a student in need.
MORE
First day of school listing for all Catholic schools
In 1962 at St. Mary's Catholic School in Greenville, Ohio a seventh-grade student named Jack Hunt was unable to attend class. A struggle with rheumatoid arthritis left him homebound on doctor's orders but his school and parish would not leave him behind.
Instead they installed an intercom system with help from the telephone company. There were instruments on the desk of his teacher, and of his private desk at home. The tools allowed Jack to hear everything his teacher and classmates said, and allowed them to hear him as well.
The story goes on to tell about a little snag in the plan. Sometimes Jack would raise his hand, but the teacher would never call on him — because she couldn't see him. To fix this, they installed a button where Jack could ring a bell to respond to a question or ask one himself.
Long before the 1960s students in the 19 counties of the Archdiocese of Cincinnati were receiving Catholic education with the best tools and technology available. Today the Catholic schools of this archdiocese make up the sixth-largest such network in the United States with 111 schools.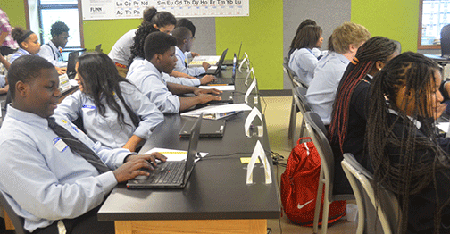 Students from Immaculate Conception in Celina to St. Michael in Ripley  and everywhere in between are formed by talented educators dedicated to high standards of teaching and passing on the faith.
While intercom technology helped Jack in the 1960s, students today learn on desktop, laptop and tablet computers, as well as through more traditional methods. Pictured at right is an image from DePaul Cristo Rey High School in Cincinnati where the incoming freshmen are given a crash course in how to use their technology.
Learn more about Catholic education in the archdiocese HERE.
Welcome to The Catholic Telegraph's edition of Throwback Thursday. Throwback Thursday is a weekly online activity wherein users of social media share an old photo or anecdote about times gone by. We use Throwback Thursday to highlight the history of the Archdiocese of Cincinnati, and our publication.
Recent Throwback Thursdays
Remembering the Ice Bucket Challenge
Remember your religious obligation
Cincinnati an archdiocese for 165 years
Updating an Iconic Chapel
True freedom depends on God
Posted August 13, 2015