My Journey: Cursillo crucial to bishop's faith development

Conversion isn't always a blinding light or whispered voice that leads to major transformation. Other times it is small steps along a life of faith that lead someone closer to Christ.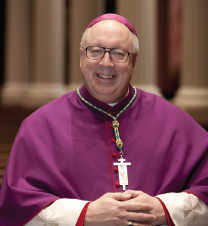 Auxiliary Bishop Joseph R. Binzer has led a life full of moments like the latter. Now a bishop, in the 1980's His Excellency was simply known as Joe. Working as a certified public accountant, he was a believer with an active prayer life who had yet to realize fully God's plan for him. That began to change in November of 1981 when he attended a Cursillo weekend.
Cursillo is a 72-hour retreat of sorts with prayer, speakers and sacraments, as well as followup events. Bishop Binzer credits a moment at his Cursillo for helping him to recognize God's love.
"I would call it a moment, and I've had many moments like these, when God enlightened me about how much God loved me," Bishop Binzer said. "That came through the men who were on the weekend, the team members and other people making their Cursillo."
Prior to his Cursillo, Bishop Binzer prayed daily and attended Mass on weekends. Afterwards, his faith life began to take on more focus.
"There was more of an understanding of what the purpose of my life should be," he said. "That would be that everything I did, everything I said, was to know, love and serve God in this world so that I could be happy with God in heaven. Everything I did and everything I said would be about helping people to know Jesus Christ as their redeemer.
"I realized in my life as a certified public accountant I needed to (live the great commission) the best possible way I could… It gave a sense of focus that I hadn't had before."
    Read previous My Journey features
— Singer was always on a journey home
— Evangelized by dead people
The bishops' seminal moment occurred on his Cursillo after receiving the sacrament of confession.
"It was great to come together to pray and listen to some wonderful preaching, sing some wonderful hymns and receive the sacrament of reconciliation and realize that wonderful sacrament that Jesus came to redeem me and my sins could be forgiven," he said. "There was a grace that came and strengthened me, I guess, against the temptations of the devil."
Bishop Binzer left his Cursillo with a focused faith, but it would be seven more years before he entered the seminary.
"There's no connecting the dots as part of the general experience we call life, but I do think that trying to live my life when I was 31 years old and my friend Ray Egan suggested I become a priest…, the fact that I'd spent that time years before that thinking about what God was calling me to helped," Bishop Binzer said, adding that he was trying to discern God's will and to respond with a "generous yes" as it says in Archbishop Dennis M. Schnurr's vocation prayer. "That prayer wasn't available back in the 1980s when I was living this portion of my life, but I guess that's what I was trying to do quite frankly."
In August of 1988 Bishop Binzer entered the seminary. He was ordained in 1994 and became a bishop in June of 2011.
Bishop Binzer, who describes himself as one not prone to taking risks, talked his brother into attending Cursillo with him. He now encourages Catholics seeking to grow in their faith to try something outside their own comfort zones.
"I think the thing to do would be to try something you haven't tried before and to listen to what God might be calling you to, and to accept an invitation to do something spiritually in the Catholic Church that you haven't done before," Bishop Binzer said, referencing opportunities such as Cursillo, bible studies, parish education events and more. "In the weeks to come, only because when I made the weekend and went to confession that I had this wonderful overpowering experience of how much Jesus Christ loved me and died for me, during Lent (one thing you can do) is to receive the sacrament of reconciliation.
"As Matthew Kelly encourages us to do, we can take small steps each day and do things that are going to draw us closer to the Lord and if we have time, that will grow," Bishop Binzer added. "What I like about what Matthew Kelly reminds us to do is that we take small steps, and that is pleasing to God."
———
All of us are on a journey to a deeper relationship with Jesus Christ. "My Journey" is a recurring feature of "Contagiously Catholic", a monthly supplement to The Catholic Telegraph produced by the Office of the New Evangelization to tell the stories of Catholics continuing on a path to communion with Christ.
———
This "My Journey" feature originally appeared in the January 2015 print edition of The Catholic Telegraph. Story by John Stegeman.