National Black Catholic History Month honors holy men, women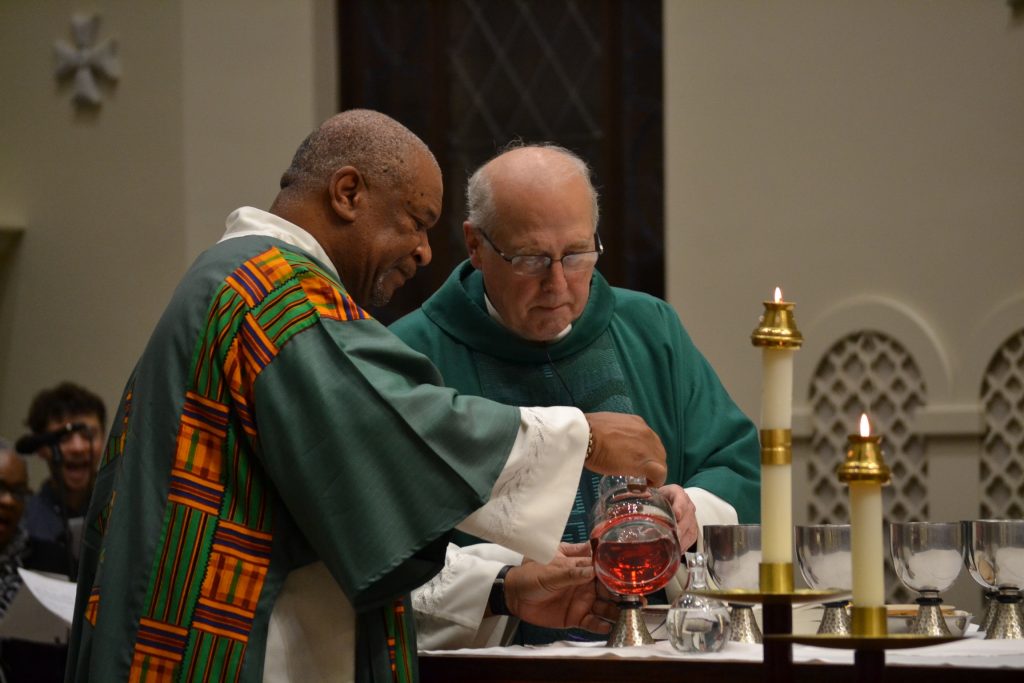 National Black Catholic History month, celebrated in November, provides the opportunity to honor the holy men and women who inspire the faithful to this day.
That history traces far back to the Acts of the Apostles (8:26-40), when St. Philip the Deacon converted an educated, high-level Ethiopian official in charge of the treasury for the Ethiopian queen. The baptism of the African treasurer was one of the first times an Apostle evangelized outside of Jerusalem, and is thus considered the sowing of the seeds of the universal church. Several saints of African descent have since influenced Christians. Those holy ones include; Saints Anthony of Egypt, Cyprian, Moses the Black, Pachomius, Maurice, Athanasius, Pisentius, Mary of Egypt, Cyril of Alexandria, Monica of Hippo, Augustine of Hippo, Perpetua, Felicitas, Thecla and Zeno. Three sainted popes came from Africa. Additionally, Northern Africa is considered the cradle of Western monasticism.
The Catholic Church does not yet have any African-American saints. "For too long, the achievements of African Americans and other people of color have been overlooked or left out of historical record entirely," said Reynold Verret, president of Xavier University of Louisiana. Verret spoke these words at the university's St. Katharine Drexel Chapel on July 31 to members of the National Black Catholic Clergy Caucus, the National Black Sisters Conference, the National Black Catholic Seminarians Association, the National Association of Black Catholic Deacons and many others gathered to work united towards canonization of virtuous African-American Catholics.
Verret considers the effort to teach the American public about the lesser-known Catholics "a mass education" campaign. Establishing the Institute for Black Catholic Studies (IBCS) as the new hub for the advancement of sainthood causes of African American Catholics is a substantial effort to that effect. Xavier and IBCS will serve as hosts and administrators, and Chicago Auxiliary Bishop Joseph Perry has been named moderator and chair of the center.
The institute is focused on five African-Americans whom IBCS considers worthy of the cause for sainthood: New Or¬leans' Venerable Henriette Delille, founder of the Sisters of the Holy Family; Buffalo's Venerable Pierre Toussaint, a slave from Haiti who eventually gained his freedom in New York City and became a philanthropist to the poor of that city; Baltimore's Servant of God Mother Mary Lange; Denver's Servant of God Julia Greeley; and Chicago's Servant of God Father Augustus Tolton. The Diocese of Jackson, Miss., is seeking a cause for canonization of a sixth — Servant of God Sister Thea Bowman.
Father Tolton was the first Roman Catholic priest in the United States publicly known to be black when he was ordained in 1886. (James Augustine Healy, ordained in 1854, and Patrick Francis Healy, ordained in 1864, were of mixed-race.) A former slave who was baptized and reared Catholic, Father Tolton studied formally in Rome and was ordained on Easter Sunday of 1886 at the Archbasilica of St. John Lateran. Assigned to the diocese of Alton (now the Diocese of Springfield), Father Tolton first ministered to his home parish in Quincy, Ill. Later assigned to Chicago, Father Tolton also led the development and construction of St. Monica Catholic Church as a black "national parish church," completed in 1893 at 36th and Dearborn streets on Chicago's South Side.
"Tolton: From Slave to Priest," a live theater production based on his life, is scheduled for four local performances in November:
Nov. 3: Xavier University – 3:00 p.m. Cintas Center, 3800 Victory Pkwy., Cincinnati.
Nov. 4: University of Dayton – 3:00 p.m. Kennedy Union, 300 College Park, Dayton
Nov. 6: Elder High School – 6:30 p.m. Schaeper Center, 3900 Vincent Ave., Cincinnati.
Nov. 7: Purcell Marian High School – 6:30 p.m. Alumni Hall, 2635 Hackberry St., Cincinnati.
For more information on this production with a trailer, click here
There are no tickets being sold for these events. Admission will be a free will offering. For more information, contact Deacon Royce Winters at rwinters@ catholiccincinnati.org or (513) 421-3131 ext. 2640, or visit www.toltondrama.com.