NBA players visit St. Francis Seraph school (PHOTOS)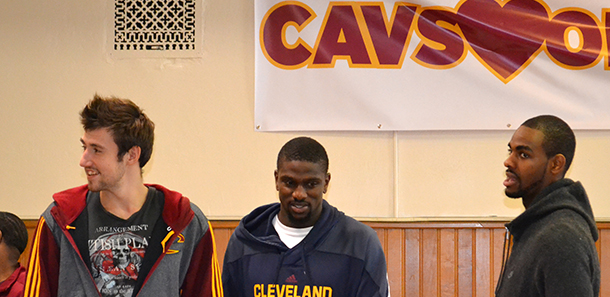 Staff Report
Five players and several staff members from the Cleveland Cavaliers NBA franchise visited St. Francis Seraph Catholic elementary school on Oct. 22.
The Cavaliers organization was there along with the humanitarian agency Samaritan's Feet and volunteers from the Horseshoe Casino to wash the feet of nearly 160 underserved youth, and provide them with a fresh pair of socks and a brand new pair of shoes.
(See photo gallery below)
The Cavaliers were in town to face the Washington Wizards in a preseason game at US Bank Arena on Oct. 23 and visited St. Francis Seraph after practicing at Xavier University. The Cavs would later lose to the Wizards 101-82.
Students were led to the basement cafeteria at St. Francis Seraph where volunteers, including the Cavaliers' Sergey Karasev, DeSagana Diop, Henry Sims, Jermaine Taylor and Elliot Williams, were on hand to wash their feet.
Staff participating in the event included assistant coaches Vitaly Potapenko, Igor Kokoskov and Jamahl Mosley and broadcasters Fred McLeod, Austin Carr, John Michael and Jim Chones.
The event was part of NBA Cares Week, which runs through Oct. 27. According to the league website, "through NBA Cares, the league and its teams and players have donated more than $225 million to charity, completed more than2.6 million hours of community service, and created more than 830 places where kids and families can live, learn or play."
St. Francis Seraph is one of eight elementary schools served by the Catholic Inner-City Schools Education (CISE) fund.