Group from Tegucigalpa visits Archdiocese of Cincinnati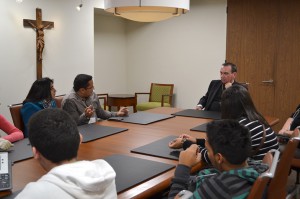 Staff Report
A dozen young adults from Honduras arrived in the Archdiocese of Cincinnati Wednesday night and will spend about six days with their twinning partners from St. Margaret of York parish.
The young adults are active in their parish youth group in Tegucigalpa, Honduras and have hosted members of the archdiocese on multiple times.
The group, including those from Honduras and representatives from St. Margaret of York, visited several archdiocesan offices Thursday and met with Archbishop Dennis M. Schnurr to discuss the role of youth in the church. The group also visited the Freedom Center.
The archbishop spoke to the group of his love of youth ministry, noting that he has been involved in some form of youth ministry for nearly 20 years. Responding to a question about how youth group leaders can best get results, Archbishop Schnurr advised leaders to first keep their own faith strong through prayer and the sacraments.