New staff member helps archdiocese 'go green'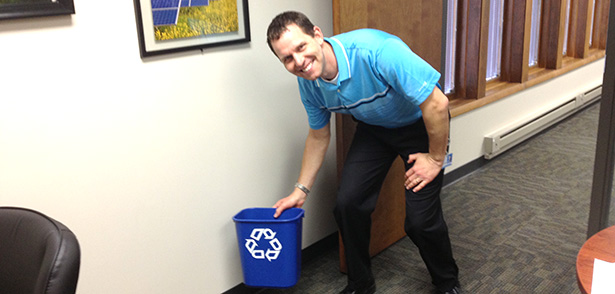 By Patricia McGeever
For The Catholic Telegraph 
The Archdiocese of Cincinnati is making a concerted effort to protect the planet.
"My goal is to get the archdiocese to be the greenest in the nation," says Jeff Bohrer, the new archdiocesan director of property management and real estate. By cutting energy costs, reducing waste and revising building standards, the archdiocese is following one of the seven core principles of Catholic Social Teaching — respect for God's creation.
Catholics have a responsibility to be good stewards of the earth and not just consumers. With that tenet as his guide, Bohrer has hit the ground running. In his job for only three months, he's already instituted a new recycling policy, is changing guidelines regarding the building of new structures and is evaluating the energy efficiency of current ones. He says he wants to be a support system for those parishes and schools that want to make changes to improve their energy efficiency.
"When you concentrate on giving solutions," he said, rather than rehashing problems, "you can save money and improve the quality of life."
Bohrer is a former physics teacher at Carroll High School in Dayton with a master's in civil engineering and a passion for the environment. He oversaw last year's transformation of the high school into an energy sustainable facility. Carroll High put in a new boiler, repaired unit ventilators and registers and replaced all the lighting fixtures. The new lighting closely resembles daylight.
"People noted that the mood of everyone was better," said Carroll High School Principal Matt Sableski, adding that the difference in lighting was "dramatic."
Every light in the building is also now on a sensor. After 10 minutes, if there is no activity in an area, the lights will switch off. "We're guaranteed to save $33,000 a year," added Sableski.
Nothing that drastic is planned for any of the 200 plus buildings operated by the archdiocese yet but energy audits will soon be conducted on the archdiocesan offices in downtown Cincinnati as well as the much newer Pilarczyk Center in Dayton. While simple changes like swapping light fixtures and cutting down on watering the green spaces may be in order for the Pilarczyk Center, bigger improvements are likely in store for 100 East Eighth Street downtown. Remodeling work is being done in the basement of the downtown building using the new guidelines. Environmentally friendly paint is being used. Each office now has a small blue recycling bin to dispose of paper. Bohrer hopes by making it easier for employees to recycle more will do it.
Bohrer practices what he preaches. After being inspired by the documentary "An Inconvenient Truth" that focuses on climate change and the environment, Bohrer began to think about the changes he could make in his own surroundings. His home was retrofitted with a geo-thermal heating and cooling system and he added solar panels to heat his water. His home can generate its own electricity and he drives an electric car. He saved an automatic $1,1000 on his utility bill. He's hoping these new changes at the archdiocese can bring about similar savings.
Every parish or school in the archdiocese has the opportunity to have a free energy audit. If they decide to make changes, Bohrer said his office will be more than happy to guide them through it.