News Briefs: Marriage can't be redefined, Jesus is the best defense against sin & a candlelight vigil for the young boy killed in Boston blast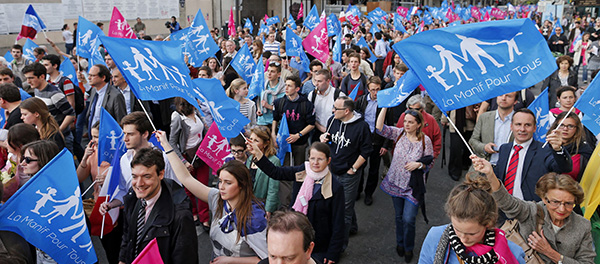 By Catholic News Service 
A glance around the nation and world in Catholic news.
Marriage is not for government to 'define or redefine,' says bishop
WILMINGTON, Del. (CNS) — Marriage "is a unique relationship between a man and a woman" and it's not the government's place to "define or redefine" it, Bishop W. Francis Malooly of Wilmington said in an April 15 letter to Delaware legislators. The letter was sent four days after Gov. Jack Markell announced a bill to legalize same-sex marriage in the state. In 2011, Delaware legalized civil unions for same-sex couples.
While the government can regulate marriage, Bishop Malooly wrote, it's "not theirs to define or redefine its essential makeup. It remains God's design, a permanent union between a man and a woman." He said his letter was not written "to attack anyone, but rather to join the current public debate about marriage and to voice once again the God-given meaning and purpose of marriage."
Bishop Malooly acknowledged the current notion that marriage is "just about love and commitment between two people," an argument that supports the redefining of marriage to include persons of the same sex. However, the bishop told lawmakers, while marriage is about love, "it is also about the unique expression of love that only and man and woman as husband and wife can give to each other."
– – –
North Korea's threats may be bluff but worrisome, say Koreans in U.S.
BROOKLYN, N.Y. (CNS) — While North Korea marked the April 15 anniversary of its founder's birth with flowers and remembrances, rather than more threatening rhetoric and missile tests, concerns about a nuclear attack on the U.S. continued to loom. Following weeks of war threats, April brings two significant anniversaries for North Korea.
One was April 15, which would have been the 101st birthday of North Korea's late founding father, Kim Il Sung. On April 25, the country planned to mark the anniversary of the creation of the North Korean Army. Both anniversaries were being seen as potential occasions for strong military displays.
"It's most likely just threats, but I am a bit worried about rash actions," said Mitchell Lee, 18, a parishioner of St. Paul Chong Ha Sang in Flushing. "I think the new leader (Kim Jong Un, grandson of Kim Il Sung) is lacking leadership," Lee told The Tablet, newspaper of the Brooklyn Diocese. "He's threatening, maybe bluffing, to affirm his leadership because he's young and not many accept him as their leader."
– – –
Immigration bill introduced; advocates parse for details of provisions
WASHINGTON (CNS) — Immigration legislation finally introduced in the Senate April 17 includes many of the provisions long-sought by advocates for comprehensive reform, but months of work likely lie ahead to attempt to turn it into law. Among other provisions, it incorporates the popular DREAM Act, without an upper age limit; would offer a 13-year path to citizenship for undocumented immigrants who arrived before 2012; would expand the pool of visas for skilled and unskilled workers; dramatically changes the process for adult children or siblings of legal residents to immigrate; and would create a new set of "triggers" for determining that the border is "secure" before parts of the law may be implemented.
While advocates for immigrants were quick to applaud in general the effort by the senators who wrote the bill, the legislation drew criticism from all sides for its specifics, along with some early praise. The Border Security, Economic Opportunity and Immigration Modernization Act of 2013, S. 744, weighed in at 844 pages and, after weeks of reports that it was "nearly finished," was finally submitted by at 2 a.m. April 17 by Sen. Charles Schumer, D-N.Y. Schumer is one of the so-called "gang of eight," a bipartisan panel that has been working on crafting legislation that might win the support of both Republicans and Democrats. Since Latino voter turnout proved to be key to Democrats doing well in the November elections, momentum has been strong in both parties to pass immigration reform.
President Barack Obama laid out his principles for reform in January and has been working with stakeholders and political leaders to push for a bill that he said he would like to sign this summer.
– – –
Best defense against sin, temptation is Jesus, pope says at audience
VATICAN CITY (CNS) — Surrounded by the devil's temptations and being susceptible to sin, people can always find help, support and forgiveness in Jesus Christ, Pope Francis said at his weekly general audience.
"My dearest brothers and sisters, we have this advocate; we're not afraid to go to him and ask him for forgiveness, ask his blessings, request his mercy," the pope said. St. Peter's Square was full to capacity for the audience April 17; large numbers of Italian pilgrims were among the crowd, including groups traveling with their bishops who making their "ad limina" visits to the Vatican to report on the status of their dioceses. At the end of the audience, Pope Francis prayed for the victims of a magnitude 7.8 earthquake that struck the border area of Iran and Pakistan April 16, killing at least 40 people.
"I pray for the victims and all those who are hurting, and I wish to express my closeness to the Iranian and Pakistani people," he said. In his main audience talk, the pope continued a series of audience talks for the Year of Faith, reflecting on basic Christian beliefs.
– – –
Bishops' leaders in France, Spain criticize promotion of gay marriage
OXFORD, England (CNS) — Heads of Catholic bishops' conferences in France and Spain warned that the promotion of same-sex marriage could threaten social peace. "These long months of debate on the bill to allow marriage for persons of the same sex have highlighted predictable divisions," said Cardinal Andre Vingt-Trois of Paris. Addressing the French bishops' spring plenary in Lourdes April 16, the cardinal said his country was witnessing "an organized and militant invasion by gender theory," signaled by the rejection of "any difference between sexes as a means of human identification."
The president of the Spanish bishops' conference, Madrid Cardinal Antonio Rouco Varela, said his country's 2005 same-sex marriage law remained "deeply unjust," although the country's Constitutional Court reaffirmed them in November.
"We need to restore to all Spaniards the right to clear recognition in law as husband and wife and recover a legal definition of marriage which does not ignore the specifics of one of social life's most important institutions," the cardinal told the Spanish bishops' plenary in Madrid. "This is not something which supposedly affects only the private life of individuals. The basic structure of society is at stake," he said.
– – –
Mourners attend candlelight vigil for boy who died in marathon blast
DORCHESTER, Mass. (CNS) — Hundreds of people converged on Garvey Park in the Boston neighborhood of Dorchester for an evening candlelight vigil April 16 to remember Martin Richard, an 8-year-old killed in bombings at the Boston Marathon April 15, and to pray for the Richard family.
Martin's mother, Denise, suffered a brain injury and his 6-year-old sister, Jane, lost a leg in the blast. Two bombs exploded near the finish line of the marathon, killing three people and wounding more than 170. The two others killed included Krystle Campbell, 29, from Medford and Lu Lingzi, 23, a graduate student at Boston University from China. Richard received first Communion at St. Ann Parish in Dorchester last May.
His father, Bill Richard, released a statement before the vigil thanking family, friends and people they don't even know "for their thoughts and prayers. I ask that you continue to pray for my family as we remember Martin. We also ask for your patience and for privacy as we work to simultaneously grieve and recover," the statement said. Father John J. Connolly, pastor of neighboring St. Brendan Parish who lives at St. Ann, led the prayer vigil, while Father Sean M. Connor, pastor of St. Ann, stayed with the Richard family.
Father Connolly told those gathered that Bill Richard was thankful for their prayers, support and kindness and he requested that his "family be granted the necessary space and time both to mourn and to recover."