Nurturing YOUR FAITH Resources to Keep the Fire of Your Faith Burning at All Stages of Life
by Katie Sciba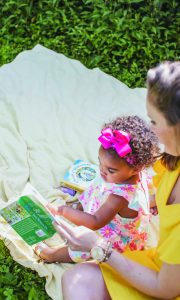 The Catholic Church offers belonging to everyone regardless of your status in life. Children, teens, singles, marrieds, parents and seniors can live a full Catholic life, both serving others and being spiritually fed by Jesus. Our faith is a fire in need of inspiration to stay lit and lively. With determination, the ability to learn and a handful of resources, greatness is within reach.
Here are some practical resources to keep your faith stoked at any age.
Young Children
Kids like to get their hands (and mouths) on everything, so the key to fanning their faith is to present them with books and toys relevant to Christ and built for them. Wooden rosaries come in an array of colors and withstand a child's active piety… or being thrown across the room.
Saint peg dolls introduce kids to our heavenly heroes and have a way of making play time into pray time.
Don't forget to stock your kids' shelves with board books on the lives of the saints. Reading about ordinary people with an extraordinary love for God is inspiring. Kids will find lifelong friends reading about the saints, and you could even hang pictures of their favorites in their rooms.
Teens
With school, activities, social media and budding social lives, there are plenty of attention-grabbers for teens. Check into your parish's youth group to encourage Catholic friendships for your kids. These groups are led by adults who work to aim teens toward heaven.
These days, with in-person get togethers a bit on the rare side, Benedictine Catholic Youth Conference is taking their main event online this year for a virtual, igniting experience. The speakers are stellar, relatable and will fuel the faith, guaranteed. Also online is Lifeteen.com – a site made for Catholic teens looking to fortify their beliefs and get their questions answered.
For a break from screens, the books Forty Dreams of St. John Bosco and Ablaze: Stories of Daring Teen Saints will give depth and vision to any teen's understanding of the faith.
Singles
We all need to grow spiritually as individuals. The Lord gave every one of us a desire for Himself that only He can satisfy, and He wants to make us whole. Spending time in adoration before the Blessed Sacrament refuels us and sets our sights on the divine. The book Single & Catholic: Finding Meaning in Your State of Life is a great read that underscores the fact that we are made complete by Jesus, and that with Him, life is thrilling and full.
For an in-person experience, the National Catholic Singles Conference is held annually, and this October, Denver is hosting. NCSC has been referred to as "the event that ministers to single Catholics."
Across the archdiocese, parishes host young adult and/or singles groups to cultivate community and to support the idea that your unique gifts are good and needed in the Church. Single or married, we're all walking around with wounds. Be Healed by Dr. Bob Schuchts walks us
through our own brokenness and helps us invite Christ in to heal us. Free from the past, we can move forward in faith and joy to better love ourselves and others.
"The world offers you comfort, but you were not made for comfort. You were made for greatness." Pope Benedict XVI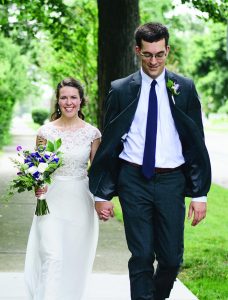 Marrieds
Binding ourselves to another person in holy matrimony is a beautiful and huge undertaking. Joint prayer in any manner is a step toward heaven – which is the goal of every marriage – and a powerful buoy to stay afloat. Spousal Prayer: A Way to Marital Happiness by James Keating is enlightening for any green or seasoned married couples; The 5 Love Languages by Gary Chapman demystifies our natural tendencies and the thought patterns of our spouses and teaches how to best communicate with them.
Dayton is home to the Discovering Our Deepest Desire ministry. Designed for thriving or struggling marriages, the program brings Jesus back to the center of your relationship. Ready to work on your marriage virtually? With Formed.org, you can stream the Augustine Institute's Beloved series, which reveals God's design for your sacrament and the deep joy available therein.
The archdiocesan website has information about Natural Family Planning and ministries for strugging relationships like Retrouvaille and Marriage Disciples.
Parents
It's the task of parents to beckon their children to heaven in taking responsibility for young, immortal souls. Never will we be so called to imitate the love and mercy of God than in parenthood. Along with Sacred Scripture, The Imitation of Christ calls us out of ourselves and into a holy way to treat ourselves and our children.
Attend Mass on Sundays and Holy Days of Obligation. Add a brief morning offering to the prayer before breakfast; display Catholic art and images around the house to convey the importance of faith to your kids; end the day by thanking God for your blessings and asking Him for help. Allowing our kids to hear our heartfelt, vulnerable prayers to the Lord sets the example of an intimate relationship with Jesus.
Proverbs 22 says, "Train up a child in the way he should go, and when he is older, he will not depart from it" (Prov. 22:6). Parenting in the faith has to be deliberate. For reinforcements, check out Don't Let the Culture Raise Your Kids by Marcia Segelstein and Made This Way: How to Prepare Kids to Face Today's Tough Moral Issues by Leila Miller and Trent Horn.
Seniors
"Even to your old age, I am the same, even when your hair is gray I will bear you… and I will carry you to safety" (Isa. 46:4) After what felt like forever but went by in the blink of an eye, life is quieter. With plenty of years behind and ahead, there is still the opportunity to learn and grow in spirituality. Wisdom comes not with age, but with humility and allowing oneself to learn.
This time is ideal for drawing closer to Jesus in friendship and supporting your family through prayer. Praying for Our Adult Sons & Daughters: Placing Them in the Heart of God by John and Therese Boucher provides direction on entrusting our grown children to the Lord's care and knowing He will provide for them.
St. Padre Pio, St. Columba, St. Hedwig and St. Jerome were all elderly when they passed away and they understood the difficulties associated with age. St. Joseph is the patron saint of a happy, holy death; we can ask his intercession for our own passing – whenever it may occur – that it be full of God's grace and mercy.
This article appeared in the July 2020 edition of The Catholic Telegraph Magazine. For your complimentary subscription, click here