Obituary: Badin High mourning death of beloved teacher Joe DeAngelo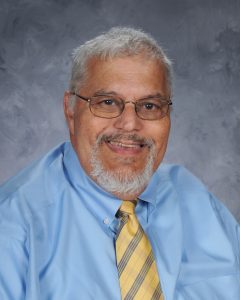 Joe DeAngelo had a positive impact on nearly every student who has ever walked the halls of Badin High School, and the school will not be the same without him.
DeAngelo, a Marketing Education teacher who had taught at Badin for 52 of the 53 years the school has been open, died Sunday morning at Mercy Health Fairfield Hospital. Though he had been out of school in recent weeks battling a heart ailment, his death was unexpected. He was 74-years-old.
"Joe DeAngelo was Badin and Badin was Joe," said Badin High Principal Brian Pendergest. "He was dedicated to this building, to our mission and most of all to our students. He loved our students and he was a genuine caring individual. He had a lot of pride in everything he did. There is a huge hole in the Badin family right now."
DeAngelo, affectionately known as Mr. D, came to Badin during the second year of its existence for the 1967-68 school year. He initiated the first career education program at a private school in the state of Ohio. He had been a major influence at Badin ever since, teaching, guiding and encouraging young people to make a difference in the world around them.
"I love Badin, I love the students, the families – Badin is just an unbelievable place to be," DeAngelo said during an assembly at Badin on what was proclaimed "Joseph DeAngelo Day" in the city of Hamilton on December 12, 2012. "I've been very proud to be a part of this school for all of these years."
"His defining characteristic was his passion," said Teresa Heinrich, Badin's chemistry teacher and former dean of academics who worked with DeAngelo for nearly four decades. "He had a passion for the school, a passion for his program and a passion for the students.
"He was very good at seeing the student for the person they were and not just as a student," Heinrich said. "He saw the potential they had. He couldn't retire. He loved being with the students too much."
DeAngelo was inducted into the first class of Badin's prestigious Hall of Honor in 2014. He was honored at the annual international DECA marketing education conference in Salt Lake City in the spring of 2012 for his outstanding career. He was a finalist for the Hamilton Celebrates Education "Educator of the Year" award in 2007. He earned numerous other major accolades during his teaching career.
"I have a great feeling to be at this school," he said in 2007. "I love my kids. I couldn't imagine not teaching. … I try to never forget where I was as a student at their age, and I try to never get too old for them."
"I will remember Joe as the 'memory maker' for the school," said Marysue Wright, a 1971 Badin grad who subsequently served as the school's development director. "He was involved in so many things and helped the students make so many good memories.
"When alumni returned to the school for a visit," said Wright, who helped organize that DeAngelo recognition day in 2012, "it was usually to see Mr. D. He was always so welcoming, so interested in their lives. He touched so many lives and maybe even saved a few along the way. This loss is going to hurt."
DeAngelo, a graduate of Miami University, brought career education to Badin, and in that capacity was technically employed through the Hamilton City Schools. But he was a difference-maker at Badin – teaching a full course load, leading marketing education trips to Chicago and New York City each year, and co-moderating, with longtime teaching partner Tim McCabe, the popular DECA program that fostered student competitions in business, communications and public relations.
"He was instrumental in the way that I enjoyed Badin," said Brian Connaughton, a 1990 BHS grad who runs the successful Flub's ice cream stores in the area. "He really made Badin a great experience for me. When I think of all of the places I went all over the country through the DECA program, I'm truly blessed.
"Joe definitely lived his whole life doing what he wanted to do right up until the very end," added Connaughton, whose son, Noah, a 2017 Badin graduate, subsequently served as a DECA state president. "I feel fortunate to have known him as well as I did."
DeAngelo was also involved in numerous other activities at Badin, serving as the senior class advisor and overseeing the Prom and After-Prom for decades. He was the Mock Trial moderator, worked with the school's Academic and Student Council boards, and was well remembered in earlier days for guiding the "Hootenanny" student variety show.
Joe is survived by his wife, Kathy, and their son, Joey.
Funeral arrangements have been made through Brown Dawson Funeral Home in Hamilton. Visitation will be at St. Basil's Chapel at Badin High School from 4 p.m. to 8 p.m.on Friday evening. The funeral will be held at St. Julie Billiart Church in downtown Hamilton Saturday morning at 11 a.m. A reception will follow from 12:30 to 6 p.m. in the Pfirman Family Activity Center at Badin.