Obituary: Patricia McNally Sister of Charity
DELHI TOWNSHIP, OHIO – Aug. 10, 2019 – Sister of Charity of Cincinnati Patricia McNally died Aug. 2, 2019, at the age of 93 in Mother Margaret Hall, the nursing facility for the Sisters of Charity. Sister Patricia was born on Oct. 25, 1925, to John and Elizabeth (Milhouse) McNally in Springfield, Ohio. She was a Sister of Charity for 76 years.
Sister Pat grew up in Springfield, Ohio; she attended St. Raphael grade school and graduated from Catholic Central High School in 1943 where she was taught by the Sisters of Charity. The call to become a Sister of Charity began in first grade when her mother died and Sister Mary Clementine Kasselmann gave her extra love and attention. Sister Pat decided then that she wanted to be like her; that desire never left and in 1943 she entered the Sisters of Charity.
Sister Pat earned a Bachelor of Arts degree in French from the College of Mount St. Joseph (Cincinnati) in 1959 and a master's in administration from Xavier University (Cincinnati) in 1964. Her more than 50 years of ministry included 24 years in education, time in several Houses of Prayer and 20 years in pastoral ministry. Sister Pat began as a primary teacher at St. William, Cincinnati in 1945. In 1951 she went to Holy Redeemer, Kensington, Maryland (1951-'56); next she taught junior high students at St. Matthew, Cincinnati (1956-'59). Sister Pat served as an elementary principal over the next 10 years, first at St. Mary, Marion, Ohio (1959-'65) and then at St. John Bosco, Parma Heights, Ohio (1965-'69). From 1969 until 1973 Sister Pat chose a ministry of prayer, living in Houses of Prayer in the Detroit, Michigan area.
In the fall of 1973 Sister Pat moved into pastoral ministry, serving at St. Christine parish, Detroit, Michigan (1973-'75); St. Rita, Saginaw, Michigan (1975-'76); Sacred Heart, Saginaw (1976-'78); St. Elizabeth, Ravenna, Kentucky (1978-'79); St. Basil, Detroit, Michigan (1979-'81); and Holy Family, Metter, Georgia (1981-'86). This Georgia parish offered ministry to Central American migrants, allowing Sister Pat to walk side-by-side with the migrant workers in the capacity of friend, accompanying them in their nine-month growing season in rural Georgia. She instructed adults for Baptism, conducted pre-Baptism classes for mothers of newborns and prepared children for First Communion, all the while studying Spanish herself. On weekends they planned social activities, a picnic and a movie in Spanish. "My heart is in the migrant work. I love these people," she said at the time of her Jubilee.
In 1986 a new and challenging opportunity as the U.S. coordinator for the GATE (Global Awareness Through Experience) program came Sister Pat's way; participants in the program, coordinated in Harlingen, Texas, received Third World experiences through visits to one of eight different countries. She took delegations from all over the U.S. to these countries to raise social and global awareness. Through the program Sister Pat believed that her own commitment to the poor was strengthened; it also provided a degree of conversion in her own heart. In 1990 the administration of the GATE program was turned over to another religious community.
In 1990 Sister Pat chose to move into retirement, volunteering full time with the Refugee Resettlement program in Nashville, Tennessee. There she accompanied refugees from 15 different nations as they attempted to become acculturated in the U.S. She saw her role as one to befriend and empower the newcomers so that they could become independent U.S. citizens. She searched out jobs, helped them adjust, and followed through with carpools to facilitate transportation problems. They saw her as a special friend. Most of all she provided emotional support. When named the Catholic Charities/Refugee Resettlement Program Volunteer of the Year in 1991 a nominator stated, "Sister Pat has a special quality for lighting dark corners and lifting the spirits of the downtrodden; she is a natural for this work, giving friendship, acceptance and stability to all."
Since the mid-1990s she has continued to remain busy volunteering in a variety of settings which included Caracole House accompanying persons with AIDS, Our Daily Bread Soup Kitchen and teaching weekly watercolor painting classes to Sisters and Associates, always enjoying life and people. Sister Pat moved to Mother Margaret Hall earlier this year when she began to need nursing care.
Her friend, Sister Jean Miller, got to know Sister Pat when she lived in Latin America. She recalled, "When I needed to renew my visa I went by bus to the border to stay with Pat. She was such a wonderful example of how to show God's joy, mercy and welcome to all she ministered to or met there. I broke my leg in Guatemala and walked on it until I got to Pat's house; there I experienced her wonderful care. Now I know she was an important gift in my life; I know she will continue to inspire all of us from her new home. Thanks, Pat, for all you have been to us."
Sister Pat McNally is survived by her sister, Rosemary Ryan, nieces and nephews. She was preceded in death by her brother, John McNally.
Sisters and family will receive visitors in the Heritage Room of the Motherhouse of the Sisters of Charity from 2 to 3 p.m. on Tuesday, Aug. 13, 2019, followed by the Mass of Christian Burial at 3 p.m. in the Motherhouse chapel. Burial will be in the Sisters of Charity cemetery.
Memorials can be made in Sister Patricia McNally's name to the Sisters of Charity of Cincinnati Retirement Fund, 5900 Delhi Rd., Mount St. Joseph, Ohio 45051.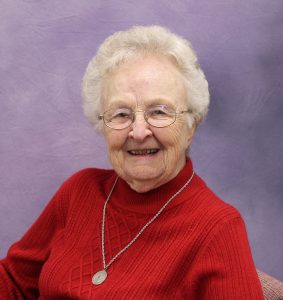 ---
The Sisters of Charity of Cincinnati, whose Motherhouse is located in Delhi Township, a western suburb of Cincinnati, is an apostolic Catholic women's religious community that exists to carry out the Gospel of Jesus Christ through service and prayer in the world. Sisters, using their professional talents as ministers of education, health care, pastoral and social services, as well as caring for all creation, currently live and minister in 17 U.S. states, in Guatemala, Mexico and the West Indies. They also sponsor institutions to address education, health care and social service needs, with particular concern for direct service to the poor.
The Sisters of Charity of Cincinnati are joined in mission by 208 Associates.
Visit the Sisters of Charity Web site at www.srcharitycinti.org