In Profile: Allie Gardner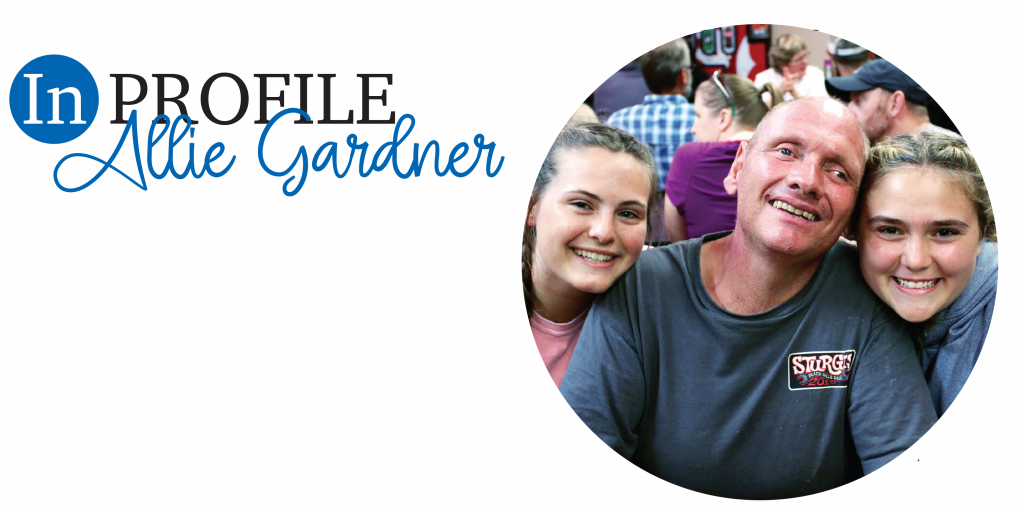 By Erin Schurenberg
I feel like my education has both instilled me with strong values and sheltered me in positive ways," said Allie Gardner Allie Gardner, incoming sophomore and class president at Mount Notre Dame (MND) High School in Cincinnati. Allie's strong faith and belief in Catholic education have been nurtured by two important women since her birth.
Sister Aileen Bankemper, current Benedictine prioress of St. Walburg's in Kentucky, is also Allie's godmother and great-aunt. Building on that family connection, she is also godmother to Allie's other important role model: her mother, Karen. And Sister Aileen has taken her role of godmother seriously. She has a long-held tradition with her godchildren of spending special one-on-one time together, which included fun childhood visits to the convent. Sister Aileen said Allie brings to mind the quote from James (2:14-17), "Faith by itself, not accompanied by action, is dead." She added, "I like it that she is hard-working but spunky and a responsible leader in her own right. Her good works improve others' lives."
Allie's mother, Karen, has taught in Catholic grade schools for 27 years. For the last 15 years, she has taught 8th graders at All Saints in Kenwood. Karen Gardner said, "Sending my kids to Catholic schools is one of the best decisions I've ever made as a parent. Their education has given them a holistic perspective on life because faith is always at the center of the subjects at hand."
As Allie continues down the path of Catholic education, now in an all-girls school, she says she loves being in an environment where she and her classmates feel free to be themselves. What Allie likes best about high school is that she has always wanted to help others and high school offers many more service opportunities.
Todd Forman has taught in Catholic schools for more than three decades. He is in his thirteenth year as a teacher at MND and currently serves there as Director of Community Service. He first met Allie when she was an eighth grader at All Saints School. Allie was involved in the school's Magnified Giving program. She and a few friends went above and beyond with that program, raising $3,000 for the Ronald McDonald House by fundraising from local businesses. Her personal interest in supporting this charity occurred after her cousins lost their prematurely-born daughter, Isabella.
From their first meeting, Forman said he could tell that Allie was on fire for service. "After eighth grade graduation, she participated in our summer Liberty, Ky., rural plunge service trip and has been on three subsequent trips." He asked Allie to lead the Autumn Freshman Service Day. From this one-day event, a new group called Freshman After-School Service Team (FAST) emerged, headed by Allie and fellow student, Megan Dodd. This student duo organized various project opportunities geared towards service to non-profit organizations.
Allie's two favorite FAST projects were making t-shirt bags for the Society of St. Vincent de Paul's food bank and making blankets for foster children in the Warm Welcome program.
"Allie truly has a heart for serving others. She loves interacting with people and gets excited when she can introduce others to service. She understands that in order to be a leader, you must be dedicated to serving," said Forman.
A specific example happened during the June 2019 Liberty service trip. By that time, Allie was a group leader for the trip. A shy incoming MND freshman attended. Allie consistently included her in group interactions. The newcomer started off feeling awkward but by the end of the trip, the young woman was transformed. She no longer felt anxious about the new school.
On her first Liberty service trip, Allie met others with different life experiences. Like the newcomer she later befriended, she began her first service trip nervously, but the welcome she received encouraged her to "put down my phone and truly experience life and those moments of bliss."
Darlene Santel, MND's main office manager, met Allie through a school-sponsored small group called My Action Plan. Said Santel, "Allie is so positive about everything. She jumps in with both feet. She's the kind of person that everyone wants for a friend. She touches lives!"