Obituary: SISTER GLADYS MARIE (M. BERNETTA) LOWE, CPPS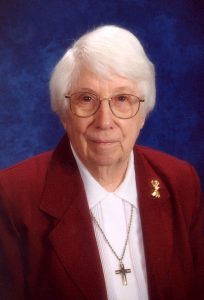 A memorial Mass for Precious Blood Sister Gladys Marie Lowe was held at the Salem Heights chapel, 4960 Salem Ave., Dayton, Ohio on Wednesday, January 10, 2018. Sister died at the Maria-Joseph Center in Dayton, Ohio on Friday, January 5, 2018. Gladys, 103, had been a Sister of the Precious Blood for 87 years.
Third in line of four children, Gladys Marie was born on May 30, 1914 to David Lowe and Mary Gordon in Dayton, Ohio. Because of the early deaths of first her father and later her mother, Gladys lived at the St. Joseph Orphanage in Dayton from where on September 4, 1930 at the age of 16 she formally entered the Congregation of the Sisters of the Precious Blood. In Religious life she was given the name Sister Mary Bernetta and later returned to using her baptismal name.
Sister Gladys Marie was active in many ministries. She served at the St. Joseph Children's Home as housekeeper for 5years and later returned to serve another 14 years. For five years she ministered at seminaries in Denver and San Diego, Calif. Then began her 23 years of ministering in child care at San Luis Rey and Oceanside, Calif. The latter 3 years she also worked with the St. Vincent de Paul Group, working with the poor. "I love working with the poor," she wrote, "because I think that is one good way I can live our Precious Blood Spirituality." This little person of unlimited energy and love to share retired to Salem Heights in Dayton, Ohio in 1994 where she continued to be of service to her Precious Blood Sisters. Because of failing health she moved in 2017 to the Maria-Joseph Center.
At her 75th Jubilee in 2005 Sister Gladys Marie wrote, "I am grateful for each of you who has been a part of my life. I'm grateful to the Congregation for so much!"
Preceding her in death were her brothers, David and John Lowe and her sister Marie Lowe and half-sister Freida Robinette Gram. Gladys Marie is survived by her Precious Blood Community of Sisters, nieces and nephews and friends.