Obituary: Sister of Charity of Cincinnati Eileen Therese Breslin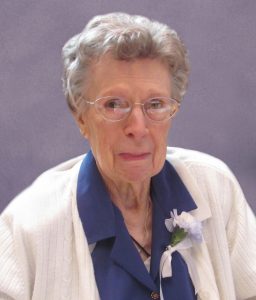 Sister of Charity of Cincinnati Eileen Therese Breslin died Aug. 23, 2019, at the age of 103 in Mother Margaret Hall, the nursing facility for the Sisters of Charity. Sister Eileen Therese was born Mary Breslin on June 4, 1916, to John Andrew and Martha (Gaebke) Breslin in Maysville, Kentucky. She was given the name Eileen Therese when she became a Sister of Charity 85 years ago.
Sister grew up in Maysville, Kentucky; she attended St. Patrick grade school in Maysville and graduated from Mount St. Joseph Academy in 1934 where she was taught by the Sisters of Charity.
Sister Eileen Therese earned a Bachelor of Arts degree in English from the College of Mount St. Joseph in 1952 and a master's in education from the University of Dayton, Dayton, Ohio, in 1968. Her more than 45 years of active ministry included 35 years in education, teaching in the intermediate classroom.
Sister Eileen Therese began teaching at Resurrection, Cincinnati in 1937. In 1939 she went to Holy Angels, Sidney, Ohio (1939-'41 and 1969-'70); next it was Holy Family, Cincinnati (1941-'43) followed by St. Joseph, Dayton, Ohio (1943-'46); St. Gabriel, Glendale (1946-'48); Holy Name, Cleveland (1948-'52); St. Elizabeth, Norwood (1952-'53); Holy Trinity, Middletown (1953-'54); Annunciation, Cincinnati (1954-'57); St. William, Cincinnati (1957-'59 and 1963-'65); Little Flower, Royal Oak, Michigan (1959-'63); St. Rose, Lima, Ohio (1965-'67); Corpus Christi, Dayton (1967-'69); and Holy Redeemer, Kensington, Maryland (1970-'73). In 1973 Sister went to Elizabeth Seton High School, South Holland, Illinois, to serve as coordinator of visual arts and from 1974 to 1979 she ministered in the library at Bishop Flaget High School, Chillicothe, Ohio. She provided office assistance at Seton High School, Cincinnati from 1979-'80.
A new challenge presented itself in 1980 when Sister Eileen Therese began serving as transportation coordinator for the Motherhouse Sisters. Three years later she retired from active ministry; her new activities included volunteering at Mother Margaret Hall and Bayley. One of her more unique accomplishments was her title as a Kentucky Colonel. The title and accompanying medal were bestowed upon her on the occasion of her 90th birthday. She was always happy to go home to visit Mayville, her birthplace, and catch up on what was happening among the townspeople. Sitting along the banks of the Ohio River was a favorite remembrance from her youth.
Her friend Sister Jackie Kowalski recalls, "I enjoyed her many stories, dry sense of humor and her great love for her family. She was proud to be a Kentucky Colonel! I will miss the repartee', wit, and friendly spirit! Thanks, Eileen, for all the gifts you have given to others over the last 103 years!"
Sister Eileen Therese is survived by many nieces and nephews. She was preceded in death by her sister, Martha Louise Walker, and her brothers John Andrew Jr., Louis Terence, James Patrick and Francis 'Joe' Breslin.
Sisters and family will greet visitors in the Heritage Room of the Sister of Charity Motherhouse from 2-3 p.m. on Thursday, Sept. 5, 2019, followed by the Mass of Christian Burial at 3 p.m. in the Motherhouse Chapel. Burial will be in the Sisters of Charity cemetery.
Memorials can be made in Sister Eileen Therese Breslin's name to the Sisters of Charity of Cincinnati Retirement Fund, 5900 Delhi Rd., Mount St. Joseph, Ohio 45051.
---
The Sisters of Charity of Cincinnati, whose Motherhouse is located in Delhi Township, a western suburb of Cincinnati, is an apostolic Catholic women's religious community that exists to carry out the Gospel of Jesus Christ through service and prayer in the world. Sisters, using their professional talents as ministers of education, health care, pastoral and social services, as well as caring for all creation, currently live and minister in 17 U.S. states, in Guatemala, Mexico and the West Indies. They also sponsor institutions to address education, health care and social service needs, with particular concern for direct service to the poor.
The Sisters of Charity of Cincinnati are joined in mission by 208 Associates.
Visit the Sisters of Charity Web site at www.srcharitycinti.org