Ohio House Mulls "Heartbeat Bill" Veto Override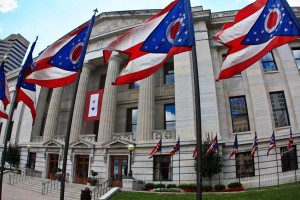 By Gail Finke
A coalition of pro-life groups that includes both Cincinnati and Cleveland Right to LIfe are supporting an effort to override Governor Kasich's veto of the "Heartbeat Bill."
The bill would outlaw most abortions in Ohio by limiting killing an unborn baby to the time before his or her heartbeat can be detected — as early as 6 weeks.
Two bills limiting abortion, the Heartbeat Bill and the Pain-Capable Unborn Child Act, were passed in Ohio's general assembly this week. On Wednesday Gov. Kasich signed the latter, which limits abortions to 20 weeks, and used vetoed the former, citing the likelihood of a costly lawsuit.
Courts have found Heartbeat legislation in two other states unconstitutional, he said, adding that a court loss could jeopardize Ohio's other abortion restrictions. (Read the veto explanation here.)
The Ohio bishops supported the Pain Capable Abortion ban which the Governor signed, but they were neutral on Heartbeat due to the constitutionality questions.
The bills were written by different pro-life groups, both with many strong supporters. Ohio Right to Life and a coalition of groups opposed the Heartbeat Bill for legal reasons, and favor an incremental approach to end abortion. Groups that support the Heartbeat Bill say that it will save only about 500 unborn children a year, out of approximately 20,000 killed every year in Ohio.
"Cincinnati Right to Life supports all efforts to rescue unborn children from abortion at any stage of development, but until bold legislative strategies are enacted we are only putting a band aid on a gaping wound," said Paula Westwood, executive director of Right to Life of Greater Cincinnati. "Ohio's human heartbeat protection measure is a solid step toward rescuing every abortion victim."
Other pro-life leaders are less diplomatic. Jenn Giroux, formerly of Human Life International, wrote a blistering letter to the Enquirer calling for Kasich's impeachment and the dissolution. Bryan Kemper, president of Stand True Pro-Life Outeach in Troy and Youth Outreach Coordinator for Priests for Life, called the governor a traitor. "Gov. Kasich is a traitor to the pro-life movement and to the babies," he posted to social media accounts. "He has probably ended his political career and will be held accountable for vetoing the heartbeat bill. To deny protecting the the lives of babies whose hearts are beating is unfathomable and cowardice."
Because of such support, pro-life groups are calling for the override vote. According to Cincinnati Right to Life, "only two switched votes are needed to override Gov. Kasich's veto" in the House, but a veto override requires three-fifths majorities in both houses.
Brad Miller, spokesman for House Speaker Cliff Rosenberger, told the Dayton Daily News that some House member think the veto was "a step backward on this important issue," and that the Speaker was considering the vote.
Official members of the override coalition include:
Cleveland Right to Life
Clermont County Right to Life
Dayton Right to Life
Fostoria/Bascom Life
Geauga County Right to Life
Hancock County Right to Life
HELP Pro Life Apostolate
Lake County Right to Life
Lima & Allen County Right to Life
Northeast Ohio Value Voters
Right to Life of Greater Cincinnati
Tiffin Right to Life
Toledo Right to Life
Warren County Right to Life
What's Left/What's Right Ministries