One year ago Feb. 28, the Holy See became vacant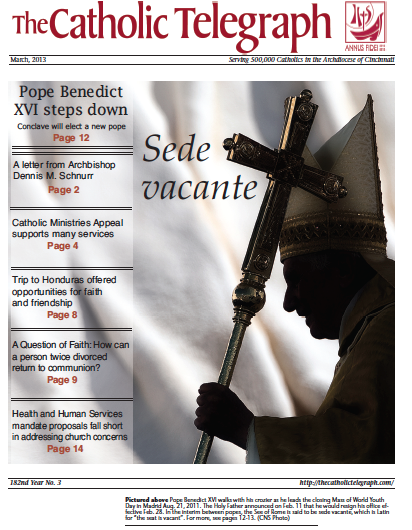 Feb. 28, 2014
Staff Report
Though first announced Feb. 11, the resignation of Pope Benedict XVI took effect one year ago on Feb. 28, 2013.
Pope Benedict XVI's resignation was the first by a pope in nearly 600 years, and it started a wave of media coverage of the Catholic Church that has yet to subside. His resignation brought about a period of sede vacante, a conclave and eventually the election of the current Holy Father Pope Francis.
"The resignation did three things," said Steve Trosley, editor and chief of The Catholic Telegraph. "First, it created a huge amount of interest in the church and its governance — and demonstrated how much the Roman Catholic Church matters in the world. Secondly, it demonstrated that the media including many Catholics do not have a thorough grasp of how the church operates. This event gave us all valuable insights. Finally, it gave us an opportunity to understand the challenges and intricacies of the papacy and the curia."
The resignation brought up countless questions. What would Benedict be called? (His Holiness Benedict XVI, Pope Emeritus) What would life be like with two living men called pope? Would there be political pressures or schisms if Benedict were outspoken?
Before stepping down, Pope Benedict XVI pledged obedience and reverence to the next pontiff and so far has lived a mostly low-key life since resigning, occasionally making appearances at the behest and invitation of Pope Francis.
The presence of two popes in the Vatican has, if anything, been a benefit. The Catholic News Service reported that Pope Francis consults with his predecessor as he would with a "wise grandfather."
The conclave to elect Pope Benedict XVI's successor began on March 12, 2013, with Pope Francis being announced as pope on March 13. Pope Benedict lived for a time at Castel Gandolfo before moving into a remodeled convent within the Vatican.
One year after resigning, Pope Benedict appears to remain in good health. At the time of his resignation, Archbishop Dennis M. Schnurr released a statement calling the then-pope "humble" and "unselfish," saying he would always remember him well.
"In my several encounters with him I found this brilliant theologian to be unfailingly kind, hospitable and welcoming," Archbishop Schnurr wrote. "Ultimately he was a very pastoral man who won the hearts of all Americans on his pastoral visit to the United States in 2008. I will be forever grateful to him for naming me Archbishop of Cincinnati."
The Catholic News Service contributed to this report.