Ordination Profile: Deacon Timothy Fahey
The men scheduled to be ordained to the priesthood May 21 at the Cathedral of St. Peter in Chains in downtown Cincinnati responded to questions from The Catholic Telegraph to profile their background and journey to the priesthood. TheCatholicTelegraph.com will publish profiles each day this week leading up to ordination.
Deacon Timothy Fahey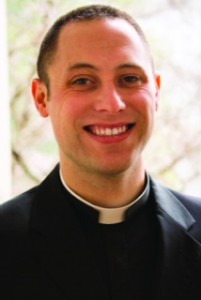 I grew up in Miamisburg. I have a twin brother and two younger brothers. My father is a chemical engineer and my mother works with the church. I am from Our Lady of Good Hope Church in Miamisburg, and I did internship at St. Vivian Parish in Finneytown. I attended Bishop Leibold Grade School and Bishop Fenwick High School. I went to the Air Force Academy for two years, then the Pontifical College Josephinum for three years, and the Athenaeum of Ohio for five years.
• What was the process that led you to pursue the priesthood?
My parents sent me through Catholic grade school and Catholic high school, and my pastor at home always would encourage my brothers and me to consider the priesthood. When I graduated from high school, I attended the U.S. Air Force Academy in Colorado Springs. The Fellowship of Catholic University Students had a team there, and FOCUS helped me gain a much greater appreciation of and joy in the faith, and I began thinking about the priesthood again. After two years at the Academy with FOCUS, I left in order to enter college seminary at the Josephinum.
• What has the journey been like as you neared ordination?
It's been a long eight-year process, and it's a little unreal to be so close to ordination. I'm very much looking forward to being out in the parish and serving as a priest.
• Was there a single person who greatly influenced your decision to become a priest?
There have been plenty of people who have had a large influence. The FOCUS missionaries at the Academy, the pastors of my home parish as I grew up, and members of my family have had perhaps the largest influence and given the most encouragement. My childhood pastor, Father Ben Bruening, would tell my brothers and me to think about the priesthood when we were altar servers, and would show us his chalice and tell us about his time as a priest. His witness was a huge foundation for my discernment.
• What message would you offer to those who want to serve God but do not know how?
I would say that the church and the sacraments help us to understand God's will and gives us the grace to serve it more perfectly. However, a lot of the time, you need to take a leap of faith and trust in Him and in His church.
• How has being a deacon (or your practical internship) influenced the type of priest that you will be?
Spending time in a parish full of welcoming and encouraging people has given me a great deal of experience, confidence, and hope in the future.
• What are some of your thoughts about beginning priestly life?
I'm greatly looking forward to ministering the sacraments, to growing in conformity to the example and will of Christ, and to witnessing to the beauty and truth of His church.
• What advice would you offer about discerning a vocation?
Discernment is nurtured by silence and prayer. However, there quickly comes a time when you need to take the leap. The only way to know for sure if you are called to the priesthood is to give seminary a try, and the only way to know for sure if you are called to religious life is to try life in a community.  Give your whole self to God, He will not be outdone in generosity.
• What will you miss most about your seminary preparation time?  What will you value most?
I think I value most the community and the brotherhood, and I think I will miss the amount of time we all spend together. Seminary is a time of great conversations, of growing together, and of pursuing a deeper relationship with God as a community.
• What types of jobs have you held?
I spent two years in the Air Force as an officer candidate. I worked on summer at Camp Wojtyla, a Catholic summer camp in Colorado. I worked at a Boy Scout Camp one summer. Other than those, and a handful of high school jobs, most summers are taken up by seminary programs or living in a parish.
• What sort of extracurricular activities did you enjoy in college?
At the Air Force Academy, I was in the Catholic Cadet Choir, and spent most of my spare time with the Catholic Community.
Other Profiles (Date published)
Deacon Chris Geiger (May 16)
Deacon Sean Wilson (May 16)
Deacon Jason Williams (May 17)
Deacon Alex McCulough (May 18)
Deacon Matt Feist (May 19)
Deacon Eric Roush (May 19)
Deacons Reagan, Bertke and Smith (May 20)
This seminarian profile first appeared in the May 2016 print edition of The Catholic Telegraph.