PDF of Maronite Patriarch's remarks now available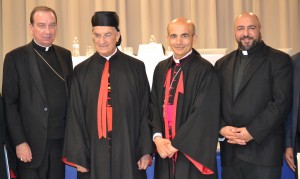 His Beatitude Mar Bechara Peter Cardinal Rai, Patriarch of the Maronite Catholic Church, discussed the struggles of Christians in the Middle East and offered some thoughtful remedies for a solution to the political and religious violence there during a July 1 visit to the Archdiocese of Cincinnati.
A PDF document of his prepared remarks is available below.
The conference, "One Church of Mercy" was hosted by Annunciation of the Blessed Virgin Mary Catholic Church and drew approximately 200 attendees. The event, which ended that evening with a celebration of the divine liturgy and dinner, was a joint effort of Latin and Eastern Rite Churches in Cincinnati, designed to shine a spotlight on the persecution of Christians and other minorities in the Middle East as well as the struggles of refugees from the region.
Full remarks of His Beatitude Mar Bechara Peter Cardinal Rai, July 1, 2016