Working on Sunday Mass attendance churn is everyone's job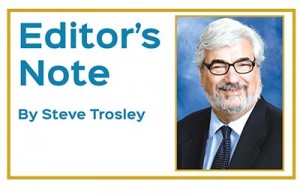 Danny Diego always wore a huge smile. A guy who had beat childhood polio, he was not a man terribly impressed with obstacles.
But as circulation manager of the Inland Valley Daily Bulletin in Ontario, Calif., 20 years ago, the smile would become a near grimace every New Year's Day when he would look at his churn numbers.
Churn is the number of newspaper subscriptions a company would have to replace each year due to cancellations, for any reason.  At that particular newspaper in the mid-90s, that number hovered at just over 10,000. That's not renewals. That's replacements. Gone were the days when families subscribed to the newspaper as soon as the kids started school.
To meet that goal, Danny would not wait until January 1 and begin. He was at it all year long using old programs and developing new ones to keep our circulation stable or growing. Danny not only involved the people in his department, all of whom he personally trained for the task. He engaged each of the more than 400 people employed in producing the newspaper each day. From ad sales reps to press operators, everyone got a visit from Danny.
Ultimately, circulation determined advertising rates and without those sources of revenue, the newspaper had no way to pay its people. So, churn was everyone's concern.
A few months ago, I wrote in this space that while Cincinnati might not be as Catholic quantitatively as a local magazine pointed out, the qualitative picture was still very bright to me. Many readers agreed with the column but a few did not and they made an interesting point. The drop off in Mass attendance – our churn – is discouraging.
As I heard one pastor say shortly after I arrived here in 2012, "We have to get more butts in the seats."
In years gone by, we Catholics expected families to register at a parish when the children were ready to make their First Communion. Those days are gone, too.
Oh yes, we have some mighty fine folks, from clergy to religious to lay people, engaged in the work of conversion and re-engaging those who have strayed. And most of us are willing to let those fine folks lead the way. Catholics are not the only churches with problems – ours may seem more difficult because, as the Gospel says, we don't hedge on the "hard teachings" of Jesus Christ.
However, what the church offers is worth a daily effort in personal outreach and prayer.
As Pope Francis said recently, "Don't just go make another program!" We are masters of overlooking the obvious. Returning from a meeting in Dayton last Saturday afternoon, I passed six church vans or buses on I-75 before I got to the Franklin exit. We, who have among our church's precepts a requirement for attending Sunday Mass, were not represented on that highway.
We all need to focus on our churn and help Christ continue to build His church.
               ––––––––––––––––––––––––
I did not leave mention of the archdiocesan brothers and sisters who live north or east of I-275 out of the aforementioned column for any reason other than that the article I was commenting on was in Cincinnati Magazine.
I know that area from my days in the Ohio League of Home Dailies, an organization of small, family owned newspapers that use to work together to solve mutual problems.  I was the publisher of the Norwalk Reflector and spent much time with publishers from Bellefountaine, Celina, Marysville and other communities in Western and central Ohio. I got to know the region from those newspapers.
And I expect the quality of the Catholic faith in that region is most impressive.
This Editor's Note column by Steve Trosley first appeared in the July 2016 print edition of The Catholic Telegraph.