Perfection possible, but not on our own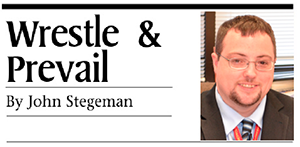 August 2013
I don't know what time it was on July 2 that Cincinnati Reds pitcher Homer Bailey walked San Francisco Giant's center fielder Gregor Blanco, but I knew it was coming. My sister, Karyn, and I jinxed it.
The walk came in the seventh inning. Bailey was on fire. He'd struck out seven batters to that point and die-hard Reds fans know that if Reds pitchers reach 11 strikeouts, it means free La Rosa's pizza for everyone at the game.
My sister was on the far opposite end of our row of seats and I held up four fingers, indicating that four more strikeouts would net us some tasty pizza. This was around the sixth inning, and she thought I meant innings, of which we needed three more innings until… a perfect game. I mean strikeouts. She meant innings.
To clarify my meaning, she texted me the word "Perfect?" at 8:47 p.m. Everyone who knows baseball knows its a game of superstition. You NEVER talk about a perfect game in progress. Legend has it that if you do, the pitcher will blow it. So sorry Homer, you did your part, but we blew it.
It was truly thrilling to be there with friends and family to witness the first Reds' no-hitter in Great American Ballpark, but something struck me almost as soon as it ended. We were all elated and excited with the no-hitter, but many people were obsessed with what could have been.
"How cool would it have been to see a perfect game?" That was the chorus heard as we walked out of the stadium.
Homer Bailey was nearly perfect, but after a moment of excitement, many were left thinking about what could have been. I think our collective obsession with perfection can be easily tied to original sin. We are flawed beings. We are made in the image and likeness of the divine flawless God, but original sin makes us fallen. We long for perfection, for paradise lost.
Scripture reflects this. Matthew 5:48 tells us that we must be perfect, as God is perfect. Romans 3:23 however adds "for all have sinned and fall short of the glory of God."
So which is it? Be perfect, or acknowledge our sinfulness?
The answer is both. We must strive for that ideal. We must work and pray and live with the ideal of perfection set before us. We must remember that while we are flawed and fallen, we are redeemed by Christ's death. If we live and die in a state of grace, if we are baptized and participate in the sacraments and rely on the mercy of God, we can one day enter into perfect communion with Christ in heaven.
Every pitcher who takes the mound in a Major League Baseball game is 27 outs away from immortality. My math may be off, but there have been more than 200,000 MLB games played since 1880. Only 23 times in that span has a pitcher been perfect. About 200 or so have thrown no-hitters.
In baseball, the perfect game is the nearly unattainable ideal. Just because it is hard, however, doesn't mean it is impossible.
It may be harder for a rich man to get to heaven than it is for a camel to pass through the eye of a needle, but with the mercy of God, the presence of Christ in our lives through the sacraments and the promptings of the Holy Spirit, we Catholics can have faith that our quest for perfection is not futile.
A pitcher must rely on his own skills, good defense and a little bit of luck to pitch a perfect game. As Catholics, we rely not on ourselves, but on our all-powerful, all-loving, all-merciful God, who has given us the Church to help us on our way.
Previous Wrestle & Prevail columns
Dreams of a father: My hope for my soon to be born son
Remembering our biggest fans — Mom and Dad
No words can fix what happened in Boston, only God's love
How I spent my Super Bowl Sunday
Proper understanding of sports can lead to stronger faith