Photo Friday: Summer nights, festival lights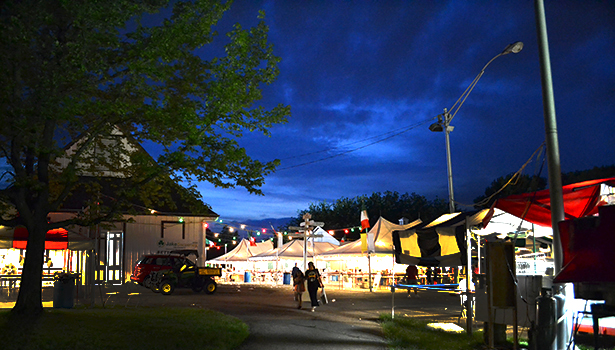 Staff Report
Sometimes you just don't want the fun to end.
The setting for today's Photo Friday image is the final day of the Cincitalia festival May 17 at Harvest Home Park in Cheviot. On a warm summer evening the last patrons, a mother and daughter, are seen leaving the festival as the bright lights of various booths are seen behind them.
By that time, the rides were closed, the food booths were shut down and the cleanup and tear down had begun, but this duo was still enjoying the bright lights of a summer night during parish festival season.
Cincitalia is presented by St. Catharine of Sienna parish in Westwood. Church festivals are a major source of fundraising and community building for the parishes of the Archdiocese of Cincinnati.
Want to bring your family to a parish festival to enjoy the warm nights and bright lights of summer? Check out The Catholic Telegraph's 2015 Festival Calendar HERE for every festival, every weekend.
Previous Friday Photos
Taking the Plunge
Cinco de Mayo
Welcome to Friday Photo. A post where The Catholic Telegraph staff select an image that shows the vibrant life of the faith community in the Archdiocese of Cincinnati, and around the world. To submit a photo for consideration, email John Stegeman with "Friday Photo" in the subject line.
Posted May 29, 2015