June issue covers graduation, ordination and more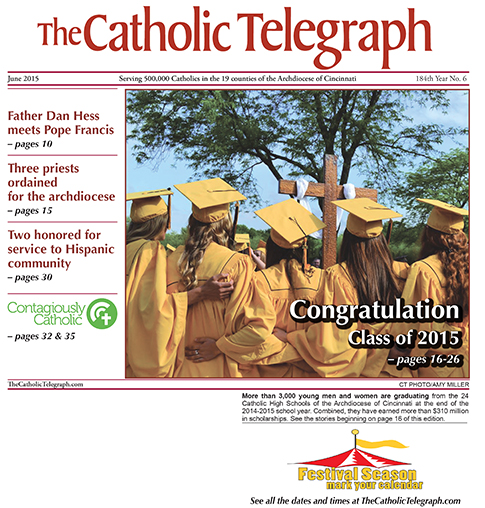 Staff Report
The June issue of The Catholic Telegraph began arriving in mailboxes this morning, bringing with it an in-depth look at the fruit of Catholic high schools throughout the Archdiocese of Cincinnati. More than 3,000 young men and women are graduating from these Catholic schools this month and an 11-page special section.
The graduation section features profiles of four outstanding young men and women (Matt Schneider of Moeller, Isaac Chmiel of Royalmont, Andrew Eisenhauer of Alter and Nancy Nzobigeza of Mercy) that exemplify the high-caliber students produced at local Catholic high schools.
Graduation only makes up part of this 40-page edition. There's an important letter from Archbishop Dennis M. Schnurr on the coming Fortnight for Freedom that kicks off the issue. In the letter, the archbishop points out that "Preserve Religious Freedom" signs are available for purchase from The Catholic Telegraph for a low price.
There's a story of expanding ministry at Ruah Woods, and another on a gathering of young religious. There's a photo of Cardinal Timothy Dolan of New York with local seminary rector Father Benedict O'Cinneslaigh and a handful of photos from priestly ordination.
This issue also has the reflections of Father Dan Hess, a local priest presently in Rome, on his meeting the Holy Father Pope Francis.
Add to that the usual lineup of columnists Jeanne Hunt, Father Dan Schmitmeyer, Mike Daley and Father Earl Fernandes, as well as Body & Soul and Everyday Evangelist features, and the June issue shapes up to be great summer reading.
Many of the stories from the June 2015 print edition will appear online over the course of the next month, but to make sure you don't miss a single story, subscribe to the print edition HERE at no personal cost.
Posted May 29, 2015