Yard signs available for Fortnight for Freedom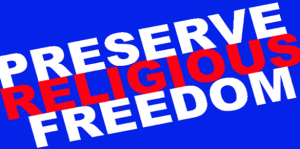 Staff Report
The Archdiocese of Cincinnati will observe the forth annual Fortnight for Freedom.
"Preserve Religious Freedom" yard signs can be secured (at a cost of two for $1) by emailing [email protected]. 
Fortnight for Freedom: Freedom to Bear Witness will take place from June 21 to July 4, a time when the Catholic liturgical calendar celebrates a series of great martyrs who remained faithful in the face of persecution by political power — St. Thomas More and St. John Fisher, St. John the Baptist, SS. Peter and Paul, and the First Martyrs of the Church of Rome.
The theme of this year's Fortnight will focus on the "freedom to bear witness" to the truth of the Gospel. Events will be announced at various parishes around the archdiocese and Archbishop Dennis M. Schnurr addressed the topic in a pastoral letter on page 2 of the June edition of The Catholic Telegraph.The observance is sponsored by the Archdiocese in coordination with the United States Conference of Catholic Bishops.
This article originally appeared in the June 2015 print edition of The Catholic Telegraph.