Pilgrims to Rome continue to share pope's message of hope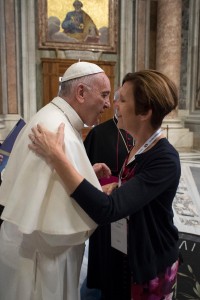 Pope Francis shared a message of forgiveness, compassion and hope during the Jubilee for Prisoners as the Year of Mercy came to a close in November. As part of the celebration, he also received greetings and prayers from inmates from the Archdiocese of Cincinnati.
Twenty-three local pilgrims traveled to Rome for the Jubilee Year for Prisoners, joining thousands of others, among them those involved in prison ministry and "returning citizens," or the formerly incarcerated.
During a Mass at St. Peter's Basilica, Pope Francis said, "Hope is a gift of God. We must ask for it. It is placed deep within each human heart in order to shed light on this life, so often troubled and clouded by so many situations that bring sadness and pain. We need to nourish the roots of our hope so that they can bear fruit; primarily the certainty of God's closeness, despite whatever evil we have done."
Karen Kane, director of the archdiocesan
Office of Divine Worship and Sacraments, helped coordinate the visit after Archbishop Dennis M. Schnurr received a communication from the Vatican inviting delegations to Rome for the celebration.
Tony Stieritz, director of the archdiocesan Catholic Social Action Office, explained the significance of the invitation, saying, "For a number of years, our office has been working on the issue of re-entry and criminal justice reform. It's been one of the most life-giving ministries we've become involved with. We've developed a number of relationships with returning citizens, and we want to send them the ultimate message that the Catholic Church truly embraces and cares for them, and what better way to communicate that than a Mass with the Holy Father."
That message is communicated in many ways in the archdiocese, including through the Catholic Campaign for Human Development (CCDH), which is administered locally by the Social Action Office. "CCHD funds ministries that empower returning citizens and help them rebuild their lives," Stieritz said. "We're very grateful to the people who contribute to that collection."
Kane was part of a group of between 30 and 35 representatives who were invited to a private audience with Holy Father during their time in Rome. They gathered in a cordoned off area at the back of St. Peter's Basilica. Kane had cards and letters written by 150 local inmates in hand and presented them to Pope Francis. "I told him how grateful we are for the Year of Mercy, that it had inspired and filled peoples' hearts with great hope. He was very pleased to know that there was a connection between our prisoners and the Jubilee for Prisoners. His final words to me were, "Pray for me.'"
"When you see pictures of Pope Francis, he has such a kind, humble face," Kane added. "Every picture is filled that humility and love of Christ. And, yes, he is the same in person. He personifies Christ. I came to know that in very real way when I met Pope Francis. It was very powerful."
Christine Shimrock, director of the archdiocesan Office for Pastoral Ministry to the Incarcerated, said her office has spent the past year focusing on mercy with the inmates, so the pilgrimage was "an amazing capstone to what was already just a blessed year watching men and women come to terms with what mercy means."
"These are folks who probably haven't experienced much mercy in their lives, especially when society says they don't deserve it," she said. "This says to them that we serve a merciful God and that we are serious about the concept of mercy."
Since the group returned, some members have visited area prisons to share their experiences and the Holy Father's message. At the Dayton Correctional Institution, Kane said, "It provided the opportunity to let the women know that even in prison there is hope, that their lives still matter, that somehow there is still dignity and meaning for them."